Winery Blog

Kramer Vineyards harvest larger than ever before
With sparkling wines comprising 40 percent of their total production, Kramer Vineyards toasts the largest harvest in its 30-year history with a record-breaking offering of sparkling wine. To further celebrate, the family owned winery will offer 14 sparkling wine releases.
"We've always loved sparkling wines. They are extremely challenging to make because they're wines of such precision," said Winemaker Kim Kramer, who's been producing sparkling wines since the early 2000s. "It's rewarding to see the delight these wines bring to people's faces and to see them come back for more."

Dedicated to sharing the delight of its fizzy wines while quenching the thirst of a growing sparkling wine demographic, Kramer Vineyards opened a sparkling tasting room in Carlton in 2013 and soon started its own sparkling wine club. The winery has also been featured in many of Oregon's sparkling wine events including Bubbles Fest.

To celebrate, Kramer Vineyards is releasing a new collection of traditional method sparkling wines from its estate vineyard in the Yamhill-Carlton AVA. These wines are all bottle fermented, and composed of Pinot Noir, Chardonnay, and/or Pinot Meunier.
If you would like more information about this topic, please contact Kim Kramer at (503) 662-4545 or email at kim@kramervineyards.com.

What is dosage?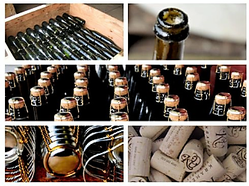 Dosage is a finishing syrup added to most champagnes and sparkling wines after the second fermentation in the bottle. Adding very small amounts of sugar can help to balance high acid wines, emphasize fruit, and improve texture. For one of the best explanations on this subject, see A Seasoning for Champagne, by Peter Liem.
How much dosage do we use?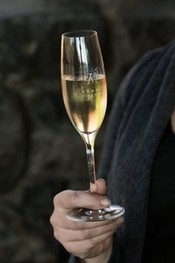 In the cellar, the first introduction to our sparkling wines is often a few months after it's been bottled, to see how the second fizz-creating fermentation is coming along. Tasting a sparkling wine for the first time in this raw state, dry, and dancing on cells of suspended yeast, is always a thrill.

Once the fermentation is complete, we begin to assess the necessity of dosage, and prepare a range of wines with sugar levels up to 10 grams per liter. In our history of making sparkling wines, the dosage levels have ranged from 3 to 8 grams per liter. However, these preferences aren't always clear cut, and we often have a fondness for the crisp, tart, and very dry wines without dosage as well.
Sometimes Less is More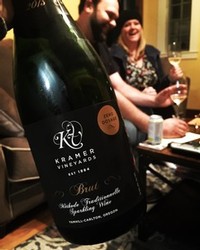 The low to zero dosage movement is a relatively recent trend, and more commonly found among grower-producers than big sparkling houses. While we certainly identify with the grower model, our interest in the style is rooted the idea that with a great fruit source, followed by good fermentation and cellar practices, that perhaps the best course of action is to take none, and let the wine speak for itself.

Vintage describes the year of the grape harvest, and in the US, wines with a vintage year on the label indicate that 95% of the grapes were from that year. By contrast, nonvintage wines are blends of wines from grapes that were harvested from two or more years. Seventy to eighty percent of Champagne is nonvintage, with blending specialists carefully combining dozens, sometimes hundreds, of base wines together to reflect a house style, the signature of the producer. Vintage wines are rarer, and it is common for a sparkling house to produce vintage wines in years that are deemed to be of superior quality.
Our goals with the sparkling wines are different than that of many large sparkling houses. The two nonvintage wines we produce are estate grown, and therefore have site expression. The composition of the nonvintage wines are as follows:





In addition to these details, one distinguishing feature of note is that the base wines for the Brut Reserve were fermented and aged in neutral French oak barrels. This treatment of the base wine results in more richness, palate weight, and structure than in stainless.
So, while these nonvintage wines are wines of place, the 2015 vintage Brut is a wine of both place and time. 2015 was warm and early, with higher than average yields. The fruit was remarkably balanced however, with excellent structure. What distinguishes this vintage for the Brut especially is the amount of Pinot Meunier in the blend, 22 percent, up from just 15 percent in 2014. We are still learning what the Pinot Meunier contributes to the wine, but one of the early observations is the enhanced midpalate presence and fruity aromas. The fruit for this wine is sourced from blocks dedicated to our sparkling program, and the blend is determined by the yields at harvest.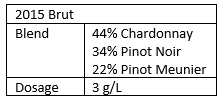 With base wines of different vintages, blends, and dosage, these wines seem quite different. But, how does this translate in the glass? Early observations are that the nonvintage wines boast a finer, more delicate mousse, with pronounced yeastiness and an increased emphasis on tree fruit flavors. By contrast, the vintage wines are incredibly fresh and light, with a fine, yet plentiful bead, showing much more minerality and citrus notes. The tone and texture of these young wines will change as they evolve in the bottle, and it is always exciting to track their progress.

Although most of vintage 2017 has been warm and dry, the season had a bit of a late start. We had budbreak in late April, about two weeks behind average for our site. April showers continued well into May, so when the sun finally came out, the canopy filled in quickly. The vineyard reached 50% bloom on June 24. This is a significant milestone, as harvest for the Pinot Noir will occur about 110 days from that stage, around October 12. Once summer weather arrived in mid-June, we racked up the growing degree days, catching up with 2016 by August. The next growth stage, 50% Veraison, occurred on August 28, supporting our estimate of an October 12 harvest date.
Grapes for sparkling wines are harvested a bit earlier to capture the naturally higher acidity. For these wines, we are looking for sugar levels in the 18-20 Brix range, compared to 21-24 Brix for the table wines. The photo above is from our first round of sampling and testing the sparkling varieties for ripeness on September 6.
Our sparkling harvest began on September 15, with the Pinot Meunier (the image to the right is of the Pinot Meunier harvest) and the Muscat. The Chardonnay and Pinot Noir were picked on September 17, followed by Pinot Blanc on September 24. We also received fruit from vineyards in Banks, Dundee, Gaston and Yamhill.
Traditional sparkling enthusiasts can look forward to Brut, Blanc de Noirs, Blanc de Blancs, and Brut Rosé from this vintage, and some zero dosage bottlings of these cuvees. For the Celebrate collection, those grapes are still hanging on the vine…
Recent Posts
June 27, 2018

May 23, 2018

April 13, 2018

April 11, 2018

March 1, 2018

February 19, 2018

February 1, 2018

January 30, 2018

January 29, 2018

January 16, 2018
Blog Categories