Winery Blog

Ingredients
1 onion

5 cloves garlic

5 carrots

4 Roma tomatoes

1 head cauliflower

4 lbs. oxtail

1 cup water

1 ½ cups Kramer Vineyards Pinot Noir Estate

1/3 cup Montreal steak seasoning

1 tbsp parsley

5 bouillon cubes- crumbled up

1-15.75 oz. can tomato sauce

1 tbsp butter

½ cabbage head
Prep work!
I like to get all the prep work out of the way before I start to cook. Chop: Onion, garlic, carrots, tomatoes and cauliflower. Keep separate. Shred: Cabbage. Trim: Fat off the oxtail. I trimmed a little in the areas where there was more fat than others.
Now its time for the fun part!
Set the Instant Pot to the sauté setting on high heat. Add the 1 tbsp of butter and melt. While the butter is melting, cover each end of the oxtail in the Montreal steak seasoning. Once they are seasoned, dust the ox tail with the parsley flakes. When the Instant Pot is hot enough, I sear ALL edges of the oxtail till it is brown. Once the pieces are seared, use tongs to remove them from the pot and set aside. You will have to do this in batches. Pro tip- If things are beginning to stick to the bottom of the pot, use some red wine to deglaze the pan.
Once the searing is done, add another dash of red wine to the Instant Pot and add the garlic and onions. Sauté them until they are getting soft, less than 5 minutes. Next add the tomatoes, tomato sauce, crumbled bouillon cubes, water and mix the ingredients. Add the oxtails with a cup of red wine. Top the pot with carrots. Set on the pressure cook setting on high for 40 minutes. Allow the pressure to slow release once the time is up. You will know the soup is done once the oxtail meat falls off the bones. When the soup is ready, add the cabbage to the soup and mix it all together!
Roasting the cauliflower: This is a step I like to do when I have 30 mins to 45 mins before dinner is ready. Toss the cauliflower florets in some olive oil, salt and pepper. Spread out on a pan and roast at 350 degrees for 35-45 minutes.
Don't have an instapot? No worries!
Crock-Pot alternative: Follow the instructions for the sauté steps, just use a pan! Once you finish sautéing the onions and garlic, transfer the ingredients to a crock pot. When all the ingredients are added, cook on low for 8 hours or high for 4-5 hours.
Serving: Place the roasted cauliflower at the bottom of the soup bowl and top with the oxtail soup. We suggest that this soup is served with Kramer Vineyards 2014 Carmine!

This was one of our favorite dishes during harvest, perfect for warming up after a cool and damp day on the crush pad.
Ingredients
6 Pounds Beef Short Ribs

Salt and Pepper for seasoning

4 Tablespoons Olive Oil

3 Tablespoons Butter

3 Beef Stock Cubes OR 3 tablespoons of Beef Bouillon

1 onion chopped

8 Garlic Cloves

6 Large Carrots, cut into chunks

2 Tablespoons Tomato Paste

2 Cans Petite Diced Tomatoes (14.5 oz. can)

3 Bay leaves

4 sprigs of fresh thyme

Parsley to garnish
Instructions
In a large pan over medium heat, add half of the olive oil and butter. Season the meat with salt and pepper then sear on all sides in the hot pan, about 2-3 minutes on each side. When the short ribs are done are browned, place them in the crock-pot. Pro-Tip: if the pan gets dry, you may need to add a little more butter and olive oil during the process. I like to deglaze the pan with a little red wine to help keep things from sticking to the pan. This also adds some extra flavor! I drop the beef stock cubes in the pot after the meat is browned and arranged. I like to put them towards the bottom of the crock-pot, so they have a chance to dissolve as it is cooking. I get lazy about some things in the kitchen and using water to make broth is one of them! Now that your frypan is deglazed, sauté the onions, garlic cloves, and tomato paste in a little more butter and olive oil, just until it is fragrant, less than a minute. Place the sautéed mixture in the crock-pot on top of the ribs. Add the carrots, diced tomatoes, Kramer Vineyards Carmine, bay leaves and thyme sprigs to the crock-pot. Top with another dose of salt and pepper. Put on the lid and cook on low for 6-8 hours.
You can serve this dish on top baked, roasted or mashed potatoes, polenta, or cauliflower. It is a hearty dish that is PERFECT for a winter evening, especially with a glass of Kramer Vineyards Carmine!

I never really gave clonal choice too much thought until recently. As a second generation winemaker with an established vineyard, our clonal selections were made many years before I decided to pursue a career in wine. Why focus on this aspect when there are so many variables at play—soil type, elevation, vine density, vine age, slope, trellis system, own rooted or grafted? Aside from the differences in ripening time, are the clones of Pinot Noir really all that distinguishable, or is it mere trivia?
There are more known clones of Pinot Noir than any other grape variety. When we established our vineyard in 1984, there were three clones available: Pommard, Wädenswil and Gamay Beaujolais. The Dijon clones, such as 114, 115, 667, etc., began to come into Oregon in the late 80s and early 90s. These clones may differ in any number of ways—cluster size and shape, berry size, color, early or late ripening, etc. Now there are over 50 clones of Pinot Noir available in the United States, and we're up to 9 at our estate.

As interest in these new clones has increased, we began to study them more closely in our vineyard. The higher crop levels in 2014 led us to introduce a series of single clone wines of Pinot Noir: Dijon 115, Dijon 777, and Pommard. For these, we followed similar winemaking protocols to allow for the clearest clonal expression possible. The fruit was harvested by hand and 25% whole clusters were layered on the bottom of 1-ton vats, and topped with destemmed fruit. After a 5-day cold soak, fermentation began. The must was pumped over and punched down twice daily and pressed at dryness. The wine was aged in neutral French oak barrels for 14 months and bottled.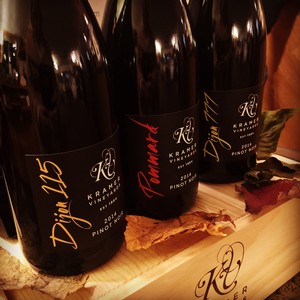 It is too early to ascribe personalities to each of these clones based on one vintage. However, these three wines are quite different from one another, leading me to rethink perspective on clonal significance. The Dijon 777 clone is remarkably spicy, with dark berry fruit and black tea. Whereas the Dijon 115 is far subtler, with a delicate earthiness and minerality. The Pommard is the closest to what I would describe as a classic Oregon Pinot Noir, but perhaps that's due to my familiarity with our Pommard-dominant vineyard? With this series and those to come in future vintages, we hope to further our understanding of each clone in the vineyard and in the cellar.
This limited collection is available for tasting on January 20 & 21, and in our online store.
Recent Posts
June 27, 2018

May 23, 2018

April 13, 2018

April 11, 2018

March 1, 2018

February 19, 2018

February 1, 2018

January 30, 2018

January 29, 2018

January 16, 2018
Blog Categories