Winery Blog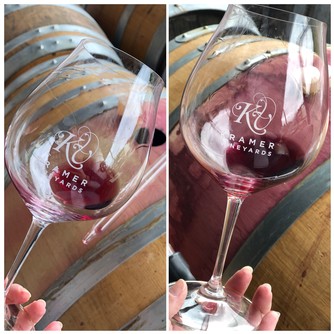 When we taste through barrels in the cellar, we're often doing so to gauge where the wine is at in the aging process. It's important to adjust expectations relative to where the wine is in its development. Early on, there's a lot of primary fruit, and the acidity and tannins can seem quite disjointed. However, after the wines winter over and warm back up in the spring, they undergo malolactic fermentation. This is where bacteria that consumes the harsher malic acid and converts it to the smoother lactic acid. The result of this process also influences mouthfeel, complexity, and perception of tannins. The wines become rounder, more integrated, and complex. Because malo has such a profound effect on the tannins, we usually don't evaluate structure or do blending trials until malo is complete, which usually occurs in May-June.
These post-malo wines are still young, but well on their way to showing us what they're about. Is the vintage taut and tannic like the 2011s, or spicy and round like 2014, or big and showy like 2012? Finding these links to past vintages helps inform our racking and blending decisions.
Why we offer barrel tasting in July
The wines are usually through malo, and have been racked, blended, settled, and returned to barrel to continue aging for 3-9 months by late June. The wines are stable and clean with minimal barrel variation. It's the best time to offer a glimpse of what these wines will be until they are released over the next several years.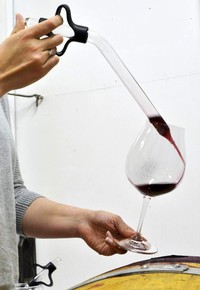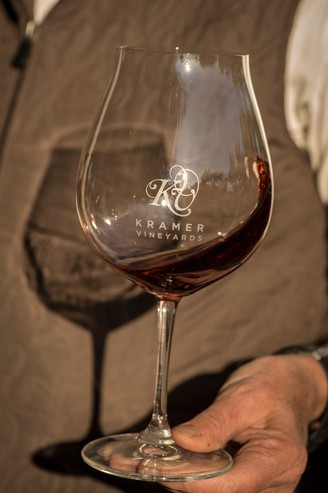 What to look for when evaluating a wine in barrel
The wines are going to be intense at this stage, so expect the tannins to be more grippy than in a finished wine, and the acidity to be angular. That's okay, the wines will age into this eventually. Taste around these youthful characteristics and find the fruit. Is the fruit red, blue, or black? Are the spices sweet or savory? How heavy is the wine in the mouth? And, how do these components work together? Considering the wine's youth, is it balanced? And most importantly, do you like it?

I never really gave clonal choice too much thought until recently. As a second generation winemaker with an established vineyard, our clonal selections were made many years before I decided to pursue a career in wine. Why focus on this aspect when there are so many variables at play—soil type, elevation, vine density, vine age, slope, trellis system, own rooted or grafted? Aside from the differences in ripening time, are the clones of Pinot Noir really all that distinguishable, or is it mere trivia?
There are more known clones of Pinot Noir than any other grape variety. When we established our vineyard in 1984, there were three clones available: Pommard, Wädenswil and Gamay Beaujolais. The Dijon clones, such as 114, 115, 667, etc., began to come into Oregon in the late 80s and early 90s. These clones may differ in any number of ways—cluster size and shape, berry size, color, early or late ripening, etc. Now there are over 50 clones of Pinot Noir available in the United States, and we're up to 9 at our estate.

As interest in these new clones has increased, we began to study them more closely in our vineyard. The higher crop levels in 2014 led us to introduce a series of single clone wines of Pinot Noir: Dijon 115, Dijon 777, and Pommard. For these, we followed similar winemaking protocols to allow for the clearest clonal expression possible. The fruit was harvested by hand and 25% whole clusters were layered on the bottom of 1-ton vats, and topped with destemmed fruit. After a 5-day cold soak, fermentation began. The must was pumped over and punched down twice daily and pressed at dryness. The wine was aged in neutral French oak barrels for 14 months and bottled.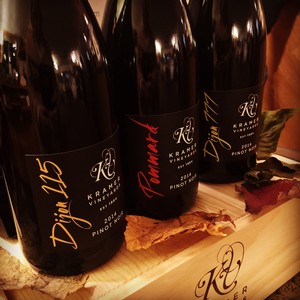 It is too early to ascribe personalities to each of these clones based on one vintage. However, these three wines are quite different from one another, leading me to rethink perspective on clonal significance. The Dijon 777 clone is remarkably spicy, with dark berry fruit and black tea. Whereas the Dijon 115 is far subtler, with a delicate earthiness and minerality. The Pommard is the closest to what I would describe as a classic Oregon Pinot Noir, but perhaps that's due to my familiarity with our Pommard-dominant vineyard? With this series and those to come in future vintages, we hope to further our understanding of each clone in the vineyard and in the cellar.
This limited collection is available for tasting on January 20 & 21, and in our online store.

Bud Break Through Veraison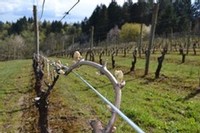 Vintage 2017 opened with a severe winter followed by a long, rainy spring. With five months of overcast skies and very few sunbreaks, the vines were slow to start. We observed over 50% budbreak by April 28, a bit late for our vineyard. The canopy started filling in when the sun finally came out in late May. Summer weather fully arrived the third week of June, and with temperatures in the high 80s, bloom rapidly occurred during the fourth week. Conditions were ideal for this growth milestone, contributing to excellent fruit set—the best we have seen since the 2009 and 2014 vintages. Veraison started on August 7, hitting the 50% mark two weeks later.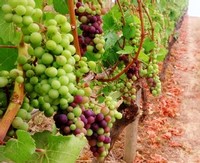 With our fullest crop in years, and a warm and dry forecast, we were on track for a big harvest. 2017 had some catching up to do for heat units, and by early September our GDDs were even with 2016. This, combined with low disease pressure, and an anticipated late September/early October harvest contributed to our decision to do minimal cluster thinning. In these conditions, carrying a heavier crop load forces the vine to work harder, slowing down ripeness, resulting in more balance.
Six Weeks of Harvesting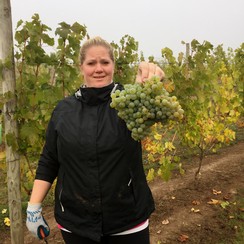 We started to notice a shift in flavor development after Labor Day Weekend, and began sampling the Pinot Noir, Pinot Meunier, and Chardonnay blocks for the sparkling harvest soon after. The sparkling harvest began on September 15, with the Pinot Meunier. The Pinot Noir and Chardonnay came in over the next several days. This was by far our largest sparkling yield, bringing in 10.3 tons from the estate, with an additional 9 tons from other sites. The increased crop load was due a combination of excellent conditions during bloom and fruit set, to our decision to thin minimally, and also due to heavier cluster weights. In a typical harvest, clusters from mature Pinot varieties will weigh `150 to 200 grams. In 2017, average cluster weights were closer to 300 grams, and some, as in the case of the Grüner Veltiner, tipped the scales at nearly two pounds! This trend would continue throughout much of the harvest.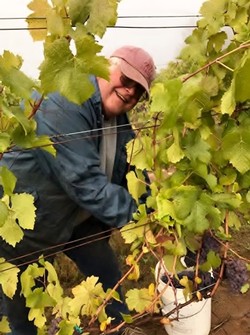 Much of the rest of late September and early October was dedicated to harvesting and pressing grapes for white wine production—Pinot Gris, Chardonnay, Gruner Veltliner, and Muller-Thurgau. Pinot Noir from warmer sites started coming in on October 9, with our estate fruit being harvested in mid-October. Before long, every fermentation vessel in the winery was full, and we had to purchase a few more tanks and vats to accommodate the extra fruit. Harvest concluded October 28, with the Carmine pick. By then, we were at full capacity—every tank, vat, barrel, and carboy was full. Overall, we brought in nearly 94 tons of grapes—20 more tons than our biggest year to date in 2014.
On the Crush Pad and in the Cellar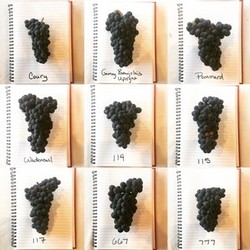 Once the fruit is picked, it is delivered to the crush pad for processing. For white and sparkling base wines, the grapes are sorted then pressed; for red and roses, the fruit is sorted and destemmed. This year, the fruit was in excellent condition, so most of the sorting required was to remove leaves and other non-grape material. The sound quality and overall ripeness of the Pinots led us to continue with whole cluster experimentation in higher percentages than ever before. We also expanded the number of clones of Pinot Noir we are working with to nine total.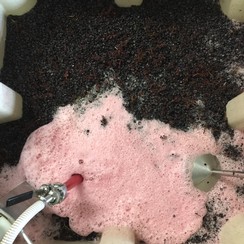 A combination of cool October nights and whole cluster fermentation extended maceration in the red ferments to an average of 30 days. We typically press at dryness, and that usually happens on a 10-14-day schedule when the fruit is all destemmed. With whole cluster ferments, sugars are trapped in the berries, limiting the sugars available to the yeast, prolonging fermentation. This meant that our fermentation management routine was extended by several weeks, and pushed our pressing dates further into November. Our last press was on the day before Thanksgiving, November 22. This is extraordinarily late compared to the last few years, when we were picked, pressed, and barreled down by mid-October.
For the white wines, fermentations were steady and healthy. Tank space is always a concern in years where yields are high, and in some cases, we elected to ferment in stainless or neutral barrels. In addition to barrel fermented Chardonnay, we also have Pinot Blanc, Pinot Gris, and Pinot Noir Blanc wintering over in barrels. These vessels will be stirred bimonthly through the spring, and either blended in with their tank counterpart to enhance mouthfeel and complexity, or be bottled on their own in the fall of 2018.
As we put another harvest behind us, the 2017s are wintering over in tanks and barrels. After the New Year, we'll begin to taste the wines individually, and start to make blending decisions and form bottling plans. The first wines of the vintage will be available in a few months, some won't be bottled until the spring of 2019. We are looking forward to what this record-setting harvest has in store.

What is dosage?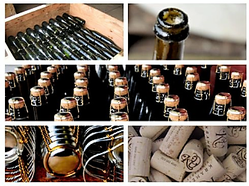 Dosage is a finishing syrup added to most champagnes and sparkling wines after the second fermentation in the bottle. Adding very small amounts of sugar can help to balance high acid wines, emphasize fruit, and improve texture. For one of the best explanations on this subject, see A Seasoning for Champagne, by Peter Liem.
How much dosage do we use?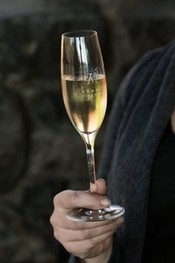 In the cellar, the first introduction to our sparkling wines is often a few months after it's been bottled, to see how the second fizz-creating fermentation is coming along. Tasting a sparkling wine for the first time in this raw state, dry, and dancing on cells of suspended yeast, is always a thrill.

Once the fermentation is complete, we begin to assess the necessity of dosage, and prepare a range of wines with sugar levels up to 10 grams per liter. In our history of making sparkling wines, the dosage levels have ranged from 3 to 8 grams per liter. However, these preferences aren't always clear cut, and we often have a fondness for the crisp, tart, and very dry wines without dosage as well.
Sometimes Less is More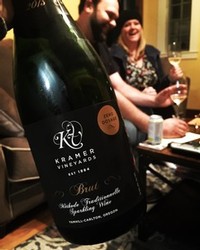 The low to zero dosage movement is a relatively recent trend, and more commonly found among grower-producers than big sparkling houses. While we certainly identify with the grower model, our interest in the style is rooted the idea that with a great fruit source, followed by good fermentation and cellar practices, that perhaps the best course of action is to take none, and let the wine speak for itself.

Vintage describes the year of the grape harvest, and in the US, wines with a vintage year on the label indicate that 95% of the grapes were from that year. By contrast, nonvintage wines are blends of wines from grapes that were harvested from two or more years. Seventy to eighty percent of Champagne is nonvintage, with blending specialists carefully combining dozens, sometimes hundreds, of base wines together to reflect a house style, the signature of the producer. Vintage wines are rarer, and it is common for a sparkling house to produce vintage wines in years that are deemed to be of superior quality.
Our goals with the sparkling wines are different than that of many large sparkling houses. The two nonvintage wines we produce are estate grown, and therefore have site expression. The composition of the nonvintage wines are as follows:





In addition to these details, one distinguishing feature of note is that the base wines for the Brut Reserve were fermented and aged in neutral French oak barrels. This treatment of the base wine results in more richness, palate weight, and structure than in stainless.
So, while these nonvintage wines are wines of place, the 2015 vintage Brut is a wine of both place and time. 2015 was warm and early, with higher than average yields. The fruit was remarkably balanced however, with excellent structure. What distinguishes this vintage for the Brut especially is the amount of Pinot Meunier in the blend, 22 percent, up from just 15 percent in 2014. We are still learning what the Pinot Meunier contributes to the wine, but one of the early observations is the enhanced midpalate presence and fruity aromas. The fruit for this wine is sourced from blocks dedicated to our sparkling program, and the blend is determined by the yields at harvest.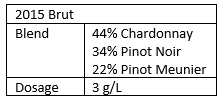 With base wines of different vintages, blends, and dosage, these wines seem quite different. But, how does this translate in the glass? Early observations are that the nonvintage wines boast a finer, more delicate mousse, with pronounced yeastiness and an increased emphasis on tree fruit flavors. By contrast, the vintage wines are incredibly fresh and light, with a fine, yet plentiful bead, showing much more minerality and citrus notes. The tone and texture of these young wines will change as they evolve in the bottle, and it is always exciting to track their progress.

What is Whole Cluster Fermentation?
Whole cluster fermentation refers to the practice of fermenting entire bunches of grapes, stems and all. Typically, our grapes go through a destemmer, a machine that knocks the berries off the stems, removing the stems from the fermentation entirely. In the process many of the berries split and begin to release juice immediately. With whole cluster, the fruit stays intact longer, releasing the sugar available to the yeast more slowly, and the presence of the stem has an impact on aroma, flavor, and structure of the wine. Are these features beneficial to the overall quality of the wine? How much whole cluster is the ideal amount, if any? Will our ideas about this change as the wine ages? With the vintage? These are all questions we hope to answer through our whole cluster trial.
The Experiment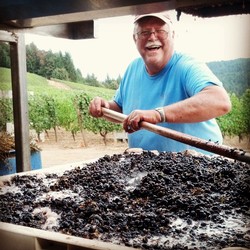 In 2014, we harvested five tons of Pinot Noir from the same part of the vineyard, and separated the fruit into five fermenters. We added a whole cluster layer in four of these vats, 25%, 50%, 75%, and 100%. The fifth bin was all destemmed. We proceeded with our typical fermentation management protocols, with pumpovers and punch downs twice daily, and pressing at dryness. The wines were aged in older French oak barrels and bottled the winter of 2016.
The Results
We observed differences in the fermentation kinetics almost immediately. The vats with higher percentages of whole cluster fermented at lower temperatures: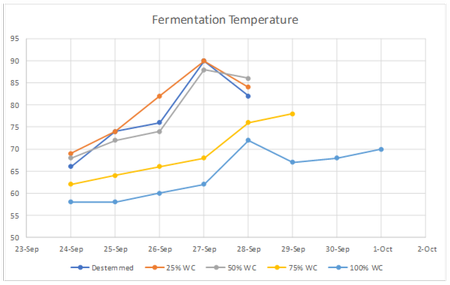 This also correlates with fermentation rate, as indicated by the rate of sugar depletion: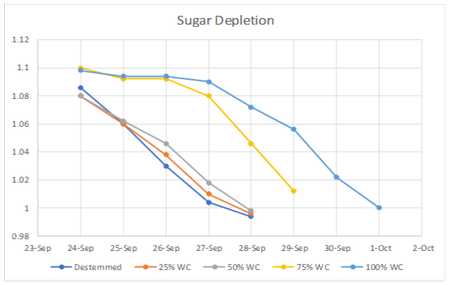 It seems that utilizing whole cluster fermentation as a technique results in a slower fermentation with lower temperatures. Cool, right?

Furthermore, we found that the chemistry of the finished wines was varied, although this could be due to differences in ripeness levels in the field, and/or clonal differences throughout the block:

It is important to note that each vintage is unique, so for us to learn anything meaningful from this exercise, we will need to repeat the experiment over multiple vintages in varying conditions.
However, you can be part of this experiment! By tasting these wines and giving feedback, your subjective observations are an invaluable aspect of this process.
Our 2014 whole cluster Pinot Noir set includes one bottle each of the experimental wines, and the 2014 Pinot Noir Estate, for a total of six. Presented in a beautiful wooden box, this collection is a lovely gift, and fun to share at a dinner party or with a group of friends.

Although most of vintage 2017 has been warm and dry, the season had a bit of a late start. We had budbreak in late April, about two weeks behind average for our site. April showers continued well into May, so when the sun finally came out, the canopy filled in quickly. The vineyard reached 50% bloom on June 24. This is a significant milestone, as harvest for the Pinot Noir will occur about 110 days from that stage, around October 12. Once summer weather arrived in mid-June, we racked up the growing degree days, catching up with 2016 by August. The next growth stage, 50% Veraison, occurred on August 28, supporting our estimate of an October 12 harvest date.
Grapes for sparkling wines are harvested a bit earlier to capture the naturally higher acidity. For these wines, we are looking for sugar levels in the 18-20 Brix range, compared to 21-24 Brix for the table wines. The photo above is from our first round of sampling and testing the sparkling varieties for ripeness on September 6.
Our sparkling harvest began on September 15, with the Pinot Meunier (the image to the right is of the Pinot Meunier harvest) and the Muscat. The Chardonnay and Pinot Noir were picked on September 17, followed by Pinot Blanc on September 24. We also received fruit from vineyards in Banks, Dundee, Gaston and Yamhill.
Traditional sparkling enthusiasts can look forward to Brut, Blanc de Noirs, Blanc de Blancs, and Brut Rosé from this vintage, and some zero dosage bottlings of these cuvees. For the Celebrate collection, those grapes are still hanging on the vine…
Recent Posts
June 27, 2018

May 23, 2018

April 13, 2018

April 11, 2018

March 1, 2018

February 19, 2018

February 1, 2018

January 30, 2018

January 29, 2018

January 16, 2018
Blog Categories