Winery Blog

We love this dish because it's so easy to adapt! The simple wine and cheese sauce is delicious on its own, and adding tender greens, shellfish, smoked fish or poultry are tasty variations, and all pair beautifully with Chardonnay.
Ingredients
1 pound pasta—we used fettucine, but penne is good too
2 T butter
2 T flour
4 cloves garlic, minced
1-medium onion, minced
1/2 cup dry white wine (we used Chardonnay)
1 T Dijon mustard
8 oz sharp white cheddar cheese, grated (we used Face Rock Extra Aged Cheddar)
1.5 cups milk
Fresh thyme sprigs
Smoked paprika to taste
Salt and pepper (we passed Jacobsen Salt Co.'s Lemon Zest at the table)
Optional add-ins: greens like spinach or arugula; cooked shrimp or chicken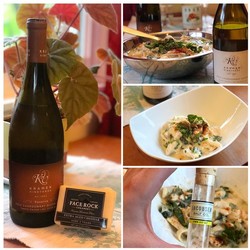 Instructions
Cook pasta to al dente, reserving ½ cup of the pasta water. You want the pasta to have a little bite so it can absorb some sauce later without getting to soft. While the pasta cooks, melt butter in a large skillet over medium heat. Add garlic and onion, saute until fragrant, about a minute. Add flour and whisk to combine, letting it bubble a bit. Add wine and mustard; stir to combine. Then slowly stir in the milk, and simmer at a low bubble until thickened, 5-7 minutes. Add cheese and stir to melt. Reduce heat to low, and stir in pasta, along with any greens, shrimp, or chicken you'd like to have in the dish. Cook until the greens, if using, have wilted. Add a little reserved pasta water if you'd like to thin the sauce. To serve, spoon into pasta bowls and garnish with smoked paprika and fresh herbs. Perfect with a cool (but not too cold) glass of Chardonnay!

Fondue is perfect with aromatic whites, including Müller-Thurgau, Riesling, or Pinot Gris
INGREDIENTS
1 pound Alpine cheese: Raclette, Comté, and/or Gruyère, grated (about 5 cups)

1 tablespoon cornstarch

1 clove garlic, minced

1 cup (or more) dry white wine

Kosher salt and freshly ground black pepper

For dipping: potatoes, bread cubes, roasted vegetables (broccoli, cauliflower, asparagus, brussels sprouts), pear and/or apple slices, cooked shrimp, chicken, or beef
Instructions: Toss the grated cheese with the cornstarch, set aside. In a fondue pot or double boiler over medium-high heat, add garlic and a splash of wine. Allow it to bubble and sear for about 30 seconds, then add remaining wine. When the wine begins to bubble, reduce to medium heat. Gradually add shredded cheese a handful at a time, stirring to melt each handful before adding the next. After all the cheese has been added and melted, reduce the temperature to low and enjoy!

Serves 4

Ingredients
1 onion

5 cloves garlic

5 carrots

4 Roma tomatoes

1 head cauliflower

4 lbs. oxtail

1 cup water

1 ½ cups Kramer Vineyards Pinot Noir Estate

1/3 cup Montreal steak seasoning

1 tbsp parsley

5 bouillon cubes- crumbled up

1-15.75 oz. can tomato sauce

1 tbsp butter

½ cabbage head
Prep work!
I like to get all the prep work out of the way before I start to cook. Chop: Onion, garlic, carrots, tomatoes and cauliflower. Keep separate. Shred: Cabbage. Trim: Fat off the oxtail. I trimmed a little in the areas where there was more fat than others.
Now its time for the fun part!
Set the Instant Pot to the sauté setting on high heat. Add the 1 tbsp of butter and melt. While the butter is melting, cover each end of the oxtail in the Montreal steak seasoning. Once they are seasoned, dust the ox tail with the parsley flakes. When the Instant Pot is hot enough, I sear ALL edges of the oxtail till it is brown. Once the pieces are seared, use tongs to remove them from the pot and set aside. You will have to do this in batches. Pro tip- If things are beginning to stick to the bottom of the pot, use some red wine to deglaze the pan.
Once the searing is done, add another dash of red wine to the Instant Pot and add the garlic and onions. Sauté them until they are getting soft, less than 5 minutes. Next add the tomatoes, tomato sauce, crumbled bouillon cubes, water and mix the ingredients. Add the oxtails with a cup of red wine. Top the pot with carrots. Set on the pressure cook setting on high for 40 minutes. Allow the pressure to slow release once the time is up. You will know the soup is done once the oxtail meat falls off the bones. When the soup is ready, add the cabbage to the soup and mix it all together!
Roasting the cauliflower: This is a step I like to do when I have 30 mins to 45 mins before dinner is ready. Toss the cauliflower florets in some olive oil, salt and pepper. Spread out on a pan and roast at 350 degrees for 35-45 minutes.
Don't have an instapot? No worries!
Crock-Pot alternative: Follow the instructions for the sauté steps, just use a pan! Once you finish sautéing the onions and garlic, transfer the ingredients to a crock pot. When all the ingredients are added, cook on low for 8 hours or high for 4-5 hours.
Serving: Place the roasted cauliflower at the bottom of the soup bowl and top with the oxtail soup. We suggest that this soup is served with Kramer Vineyards 2014 Carmine!

This was one of our favorite dishes during harvest, perfect for warming up after a cool and damp day on the crush pad.
Ingredients
6 Pounds Beef Short Ribs

Salt and Pepper for seasoning

4 Tablespoons Olive Oil

3 Tablespoons Butter

3 Beef Stock Cubes OR 3 tablespoons of Beef Bouillon

1 onion chopped

8 Garlic Cloves

6 Large Carrots, cut into chunks

2 Tablespoons Tomato Paste

2 Cans Petite Diced Tomatoes (14.5 oz. can)

3 Bay leaves

4 sprigs of fresh thyme

Parsley to garnish
Instructions
In a large pan over medium heat, add half of the olive oil and butter. Season the meat with salt and pepper then sear on all sides in the hot pan, about 2-3 minutes on each side. When the short ribs are done are browned, place them in the crock-pot. Pro-Tip: if the pan gets dry, you may need to add a little more butter and olive oil during the process. I like to deglaze the pan with a little red wine to help keep things from sticking to the pan. This also adds some extra flavor! I drop the beef stock cubes in the pot after the meat is browned and arranged. I like to put them towards the bottom of the crock-pot, so they have a chance to dissolve as it is cooking. I get lazy about some things in the kitchen and using water to make broth is one of them! Now that your frypan is deglazed, sauté the onions, garlic cloves, and tomato paste in a little more butter and olive oil, just until it is fragrant, less than a minute. Place the sautéed mixture in the crock-pot on top of the ribs. Add the carrots, diced tomatoes, Kramer Vineyards Carmine, bay leaves and thyme sprigs to the crock-pot. Top with another dose of salt and pepper. Put on the lid and cook on low for 6-8 hours.
You can serve this dish on top baked, roasted or mashed potatoes, polenta, or cauliflower. It is a hearty dish that is PERFECT for a winter evening, especially with a glass of Kramer Vineyards Carmine!

Fried foods are a wonderful pairing with sparkling wines. The dry 2015 Celebrate Pinot Gris is spectacular with this version; opt for the off-dry Müller-Thurgau if you decide to throw a jalapeno on there.
Ingredients
1-lb white fish, preferably cod

Vegetable oil for frying

Black pepper

1 cup of plain, full-fat yogurt

3 limes

Tapatio

1/3 cup mayonnaise

1 tsp garlic powder

1 head of purple cabbage

½ cup cilantro

1 red onion

Pride of the West All-Purpose Batter Mix

1 can of Rainier Beer

Corn Tortillas

2 tbsp butter

1 deep frying pan

1 shallow frying pan
Prep Work
Slice the cod into 3-4 inch strips. Dry the pieces with paper towels and season with Tony Chachere's Creole Seasoning and pepper. Put in a storage container and refrigerate. This is a good time to fill the bottom of your pan with about an 1-1 ½ inches of vegetable oil and turn on a medium high heat.

Yogurt Sauce: Mix together yogurt, juice of 1 lime, a few dashes of Tapatio, mayonnaise and garlic powder. I like the yogurt sauce for my fish tacos to be tangy with a touch of spice. You may need to adjust to fit your palate.

Toppings: Shred or chop the following and set aside in their own serving dishes: Cabbage, onion and cilantro.

Mix the batter and the beer. Watch the consistency here. You want the batter to be thick, kind of like pancake batter. Season with pepper and Tony's Chachere's Creole Seasoning. Pro Tip: There will probably be a little beer left over for your enjoyment.
Set up your fish taco frying station like an assembly line in this order: Batter, fish frying pan, tortilla frying pan, and end with a clean plate lined with paper towels to put the completed fried fish and tortillas on.

Now for the fun part. Toss a dash of water into the pan to see if the oil is ready. If it splatters when the oil touches the water, then its ready. If it doesn't splatter, then it needs more time. BE VERY CAREFUL HERE! This part reminds me of when bacon grease pops off the pan and tries to attack you. It can burn a little. When the oil is hot enough, bring the fish out of the refrigerator, dip into the beer batter and fry in the vegetable oil. You want the fish beer batter to be golden brown on both sides. Pro Tip: This is a good time to turn the heat down to medium.
Heat up the shallow frying pan on medium heat. Grease the pan with a light layer of butter. I like to grease it between every couple of tortillas. Heat the tortillas for a few minutes on each side.

Top the warm tortilla with a piece of fried fish, yogurt sauce, cabbage, cilantro, onion and a squeeze of lime. Enjoy with your favorite dry Kramer sparkling wine!
Serves 4
Recent Posts
June 27, 2018

May 23, 2018

April 13, 2018

April 11, 2018

March 1, 2018

February 19, 2018

February 1, 2018

January 30, 2018

January 29, 2018

January 16, 2018
Blog Categories