Winery Blog


Becky Kramer
With grilling and cookout season around the corner, it's time to stock up on wines for summer entertaining. Second-generation Willamette Valley winegrower Kramer Vineyards produces both still and sparkling rosés. The winery's General Manager and grilling enthusiast Becky Kramer shares her top picks for selecting wines for your next barbecue.
"Always have plenty of chilled sparkling wine and rosé on hand. They're some of the most food-friendly wines out there! The combination of refreshing, bright acidity and fruity flavors really works with the savory smokiness of the grill. A dry rosé can pair with everything from shellfish to pulled pork sliders, ribs, burgers and sausages—even the potato salad."
The Willamette Valley is synonymous with Pinot Noir, and Kramer has plenty of experience pairing this with salmon, pork chops, lamb, chicken and game birds. "Oregon Pinot noir is quite versatile with grilled foods too," she notes, "it's inherently earthy and smoky, often spicy, and the red or dark fruitiness pops nicely without dominating the meal." If beef is on the menu, she'll open something darker, like a Syrah or Rhône blend. "Beef usually needs wines with more tannins, so reach for something that will stain your teeth."
At her own grill, Becky says she loves to cook meat of all types, but drumsticks are her favorite, "there's something incredibly satisfying about standing over the grill with tongs in one hand and a glass of wine in the other." Her favorite wine to serve? Rosé of course, "still or sparkling, as long as it's dry."
Becky's fondness for grilling was fueled by her childhood growing up in wine country. "We have a hill that overlooks the vineyard and is our favorite spot to grill with friends. In the summertime, we'll host causal cookouts and everyone brings good sides and wine to share while the meat or fish is cooking. It's a wonderful communal experience in a relaxed atmosphere, and the view is amazing."
Kramer Vineyards is releasing a new collection of rosé wines from its estate vineyard in the Yamhill-Carlton AVA, just in time for barbecue season.
2017 Rosé of Pinot Noir
2017 Rosé of Carmine
2017 Rosé of Pinot Gris
2017 Celebrate Sparkling Rosé of Pinot Noir
2017 Celebrate Sparkling Rosé of Pinot Gris

KV: How did you get in to wine?
Trudy: I bought a winemaking book in 1970. I thought it might be fun, and it looked really interesting, because you could make wine from lots of things, not just wine grapes. It was winter, and there were oranges in the grocery store for a very reasonable price, so I decided to go ahead and give it a try. One gallon!
KV: Was it any good?
Trudy: It was very good! I was kind of surprised.
KV: What was the moment you knew you wanted to be a winemaker?
Trudy: Fast forward ten years, it was 1980, and I was taking a Wines of the World appreciation class from Matt Kramer in Portland. And he had a Burgundy night. The wines actually came from his cellar, and the last one of the night was a fantastic red Burgundy that made me stop and think, wow, we should be able to make something this good in Oregon. I hadn't tasted that many Burgundies before, and this one stopped me in my tracks. I was in total awe of that wine.
KV: Do you know what wine it was?
Trudy: I think it was a DRC, but I don't remember the vintage.
KV: How did you come to find the property that would be the future Kramer Vineyards?
Trudy: We came into Forest Grove, and went into a small realtor and he knew of a property for sale on Olson Road that might work. We looked at other properties, and realized we wanted to start from scratch. The Gaston property made sense because there was so much open land, and we could basically mow and plant right away. Also, Elk Cove was right down the road, and we like their wines, and the aspect of the land was right. Plus all these things were happening that was very encouraging around the time we bought the property in 1983. The first Oregon Winegrape Growers guide came out, and then there was the Cool Climate Viticulture Seminar in Eugene in 1984. There was just a lot of great energy about the Oregon wine industry at that time.

KV: Did you have a mentor in the business, or were you on your own?
Trudy: I think we were pretty much on our own, but we definitely took advice from others in the industy. Jim Leyden of Courting Hill Vineyard was very encouraging on the vineyard side of things. Of course, Rich Cushman. I took a winemaking class from him at Clackamas Community College in 1984.

KV: What highlights or challenges during those first few years have had a lasting impact?
Trudy: Well, the first time we ever received grapes. We got our license to process grapes at 1pm and were sorting by 5pm. And then we realized we didn't know how to operate the press. The directions said to use water, but our water pressure wasn't high enough. So we eventually decided to use an air compressor, which was much more effective. And that was really the start of our problem-solving, which is essential for this business. It's always an adventure trying to figure out how to make the equipment work right.
At that time, the standard was to buy land, plant grapes, and make wine there. There were a whole lot less wineries, of course. The growth we've seen in the number of wineries and in wine retail has been phenomenal. That model has changed a great deal. There's a lot more options now for people who want to make wine.

KV: What advice would you give to women who want to pursue a career in wine?
Trudy: Go for it! There are a lot of women in the wine business in Oregon at all levels. There's a lot of opportunity here. Don't be intimidated.

KV: If you could drink any wine in the world, what would it be?
Trudy: Oh that's a toughie. I guess I'd have to go back to Burgundy and drink more DRC.

History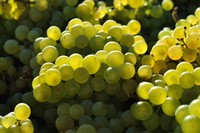 Müller-Thurgau is a white grape variety created by Dr. Hermann Müller from the Swiss Canton of Thurgau in the 1880s. The goal was to cross Riesling, capturing its rich, complex flavors, with the earlier ripening Sylvaner. However, neither of these goals was achieved, nor was Sylvaner crossed with Riesling. DNA fingerprinting has revealed that Müller-Thurgau is a cross of Riesling and a grape called Madeleine Royale. The latter, as it turns out, is a cross of Pinot and Trolliger. Most widely planted in Germany, Müller-Thurgau is also found in Austria, Northern Italy, Switzerland, Czech Republic, Japan, and of course, the United States.
How we discovered MT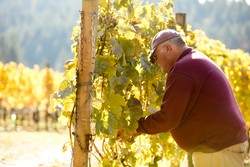 In 1980, vineyard owner Keith Kramer took a viticulture class at Erath every other Saturday for three months. The instructor Al Holstein, had some Müller-Thurgau planted in his vineyard. This was very exciting to another student in the class, who peppered Holstein with questions about the grape. Keith was not very interested in Müller-Thurgau initially, but the guy "made such a stink about it" that when the Kramers had an opportunity to buy some fruit from Courting Hill Vineyard a few years later they decided to try it. That first wine was a very fruity, off-dry white that had enough potential that they went ahead and procured some starts from Sokol Blosser in the mid-1980s.
Müller-Thurgau emerges as our flagship white
Müller-Thurgau was among the first wines in our tasting room for our grand opening in 1990, and it quickly gained a following. We increased the acreage in our estate vineyard to three, which does not sound like much, but this variety routinely produces 4-6 tons to the acre, double or triple the yield compared to Pinot Noir. As our production grew, we experimented with assorted styles, including a sparkling wine, a dessert wine, a dry barrel-fermented wine, and a late harvest wine. The stainless, fruity Estate bottling is our most popular wine, followed by the Celebrate sparkling wine.
It is easy to see why Muller-Thurgau is a tasting room favorite. In a region full of Pinot Gris, and to a lesser extent Chardonnay and Riesling, Müller-Thurgau stands out. Its unique flavor profile with starfruit, lychee, melon, hints of orange blossom and gardenia, gentle acidity with a sweet and sour effect on the palate makes it easy to sip. Plus, Müller ripens at lower sugar levels, so the alcohols in the finished wines are lower than many table wines, usually around 11%.
March 17 & 18: Müller Madness
St. Patrick's Weekend, 11 am to 5 pm
To showcase our best-selling wine, we are hosting our annual Müller Madness event. This tasting features a range of styles made from Müller-Thurgau, including current, pre-releases, and wines from our library. Dry to sweet, sparkling and still, explore and discover what Müller-Thurgau is all about! Audaddy's will be here from 12-4 pm on Saturday with their gourmet hot dogs and brats, and we'll have Bavarian themed snack boards available from our small plates menu all weekend.


Here are our top 10 wines, as determined by number of bottles sold in our tasting rooms and online.
Honorable Mention:
2016 Celebrate Rosé of Pinot Noir &
2016 Celebrate Pinot Noir Blanc

This pair of now sold-out sparkling wines made from Pinot Noir were club releases this spring, and tasting room favorites through the summer.

Our second label Pinot Noir delivers satisfying primary fruit at a price that makes it an easy bottle to open when the mood strikes.

9. 2016 Celebrate Grüner Veltliner, $28
From our third harvest of this grape variety, the peach, white pepper, and chalky minerality has only gotten more pronounced as the vines mature.

Hands-down our favorite wine to have with shellfish, this sparkling wine shows off the crisp, minerally side of the second most widely planted grape variety in the state.

7: 2013 Pinot Noir Estate, $28
This vintage isn't for the faint of heart. Starting with a hail storm during bloom and ending with a once in 100 year typhoon, it's a miracle we had any fruit to work with at all. What nature left behind resulted in Pinots with juicy, high-toned red fruit and intriguing floral aromas.

Our Pinot Gris vines were planted in the mid-80s, resulting in both the clarity of flavor, and unexpected depth make this wine a stunner. Plus, it ages gracefully--we're drinking vintages after 10+ years of cellar time, and they're stunning.

In contrast with the 2013 vintage, 2014 was a breeze--ideal weather during major stages of growth, and plenty of sun through harvest. The wines, though still young, have the approachability of a warm vintage Pinot, with lots of berry fruits and baking spices.

Our best-selling red wine isn't a Pinot Noir, but a little-known red double-cross that we planted in 1989. We've grown to love this thick-skinned, plummy, peppery, grape--especially with a steak.

A blend of Chardonnay, Pinot Noir,and Pinot Meunier, our classic Brut is a nice balance of fresh citrus, yeasty aromas, apple and pear, with a limey minerality.

We've been making this sparkling wine for over a decade. Tropical, with Asian Pear and honeydew melon, a hint of orange blossom and lychee, this bubbly has a sweet-tart effect on the palate that pairs nicely with spicy foods, fresh cheeses, and light desserts.

1. 2015 Müller-Thurgau Estate, $16
The bubble-free wine made from Müller boasts more citrus, minerality, and length. Easy to drink and share, it suits a wide range of palates and occasions, so it's always Müller time!

Kramer Vineyards harvest larger than ever before
With sparkling wines comprising 40 percent of their total production, Kramer Vineyards toasts the largest harvest in its 30-year history with a record-breaking offering of sparkling wine. To further celebrate, the family owned winery will offer 14 sparkling wine releases.
"We've always loved sparkling wines. They are extremely challenging to make because they're wines of such precision," said Winemaker Kim Kramer, who's been producing sparkling wines since the early 2000s. "It's rewarding to see the delight these wines bring to people's faces and to see them come back for more."

Dedicated to sharing the delight of its fizzy wines while quenching the thirst of a growing sparkling wine demographic, Kramer Vineyards opened a sparkling tasting room in Carlton in 2013 and soon started its own sparkling wine club. The winery has also been featured in many of Oregon's sparkling wine events including Bubbles Fest.

To celebrate, Kramer Vineyards is releasing a new collection of traditional method sparkling wines from its estate vineyard in the Yamhill-Carlton AVA. These wines are all bottle fermented, and composed of Pinot Noir, Chardonnay, and/or Pinot Meunier.
If you would like more information about this topic, please contact Kim Kramer at (503) 662-4545 or email at kim@kramervineyards.com.
Recent Posts
June 27, 2018

May 23, 2018

April 13, 2018

April 11, 2018

March 1, 2018

February 19, 2018

February 1, 2018

January 30, 2018

January 29, 2018

January 16, 2018
Blog Categories