February 5, 2020 | Müller-Thurgau, Winemaking | Kimberley Kramer
What makes the 2018 Müller-Thurgau so exceptional? Feet! Seriously.
An old world technique resets the bar for our most popular white wine
We've been growing the German-Swiss cross Müller-Thurgau since 1986. Over the years, we've made wines in a range of styles from dry to off-dry, semi-sweet to dessert, even sparkling. Both the sparkling and still wines have become quite popular and are usually the top sellers in the tasting room.
While Müller-Thurgau is widely planted in Germany, it also does quite well in the Alto Adige of northern Italy. These vineyards are planted at high elevations, with close spacing. In reading the online winemaking notes, we noticed a couple of key production differences. First, the wines are fermented and aged in concrete or old oak casks. Concrete is an area of interest, but not an investment we're ready to make quite yet. Second, the grapes are crushed before pressing.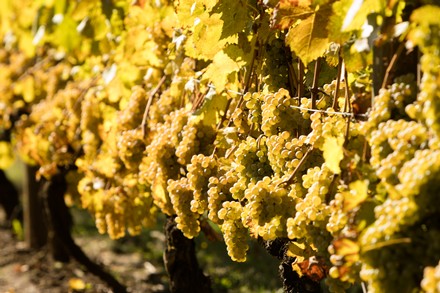 Müller-Thurgau just before harvest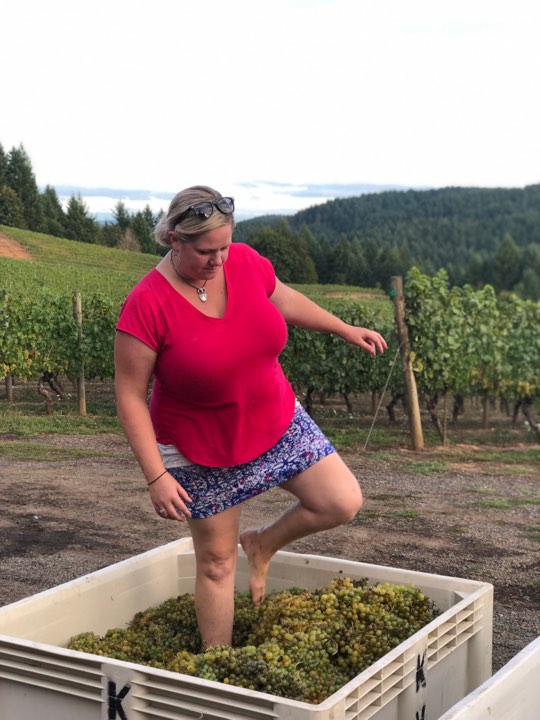 Foot crushing the Müller-Thurgau
We found the idea of crushing Müller-Thurgau very intriguing. As a rule, we whole cluster press our white wine grapes. Whole cluster pressing reduces the extraction of harsh tannins. These compounds may impart bitterness or astringency on the palate. However, Müller-Thurgau is a grape that is naturally low in tannins. Further, we wondered if crushing the grapes might result in a wine with more varietal expression. However, we don't own a machine that crushes grapes, so how would we experiment with crushing the fruit? Taking another cue from the old world, we decided to adopt a low-tech solution: feet.
During the harvest of 2018, we invited folks up to the vineyard on the day of the Müller-Thurgau pick to help us with this very important task! The harvest started at dawn, finishing around noon. We lined up the bins of grapes on the crush pad, and after a foot sanitizing dip and rinse, people climbed into the boxes one by one and went to work. It only took about 15 minutes, but squashing grapes with your feet is a quite a workout!
We noticed a difference between whole cluster pressing and crushing immediately; the press yield was 14% higher in the crushed fruit. During primary fermentation, the tanks produced a cornucopia of tropical aromas. After fermentation, we noticed the wine was quite flavorful, which is unusual for Müller-Thurgau at that stage. We continued to observe amplified flavor through the spring, finding the variety's trademark peach and starfruit profile, but also lychee, passionfruit, mango, lime, gooseberry, and sweet basil.
Based on the flavor profile of the 2018 Müller-Thurgau, we decided to crush in 2019 as well. Now that we have another vintage for comparison, we're convinced that crushing is the best protocol for this variety. The 2018 Müller-Thurgau Estate will be released February 6.