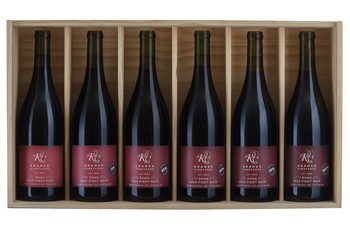 2014 Pinot Noir Whole Cluster Trial
Our 2014 whole cluster Pinot Noir collection includes one bottle each of the experimental wines, and the 2014 Pinot Noir Estate, for a total of six wines.
The Experiment
In 2014, we harvested five tons of Pinot Noir from the same part of the vineyard, and separated the fruit into five fermenters. We added a whole cluster layer in four of these vats, 25%, 50%, 75%, and 100%. The fifth bin was all destemmed. We proceeded with our typical fermentation management protocols, with pumpovers and punch downs twice daily, and pressing at dryness. The wines were aged in older French oak barrels and bottled the winter of 2016.