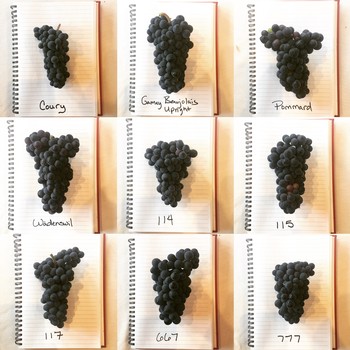 2017 Pinot Noir Single Clone Collection
Discover the Intricacies of Single-Clone Pinot Noir at Kramer Vineyards
Indulge in the captivating world of Pinot Noir as we invite you to explore the distinct characteristics of different clones in our single-clone Pinot Noir collection. Delve into the nuances and complexities of these exceptional wines, handcrafted from nine meticulously grown clones at our esteemed estate vineyard.
Experience the finest expression of Willamette Valley's renowned Pinot Noir through our 2017 Pinot Noir Single Clone Collection. This exclusive assortment features five single-clone Pinot Noirs, including the widely acclaimed Dijon 115, Dijon 667, Dijon 777, Pommard, and Wädenswil clones. As a bonus, we've included our 2017 Pinot Noir Estate to exemplify a multi-clone blend from the same vintage and winemaker.
Each wine in this thoughtfully curated collection showcases the unique attributes and flavors of its respective clone, ranging from the enticing fruity and floral notes of Dijon 115 to the opulent richness and complexity of the Pommard Pinot Noir clone.
By acquiring this extraordinary bundle, you'll savor limited-release, premium wines from a reputable Willamette Valley producer and gain invaluable insights into the fascinating world of clonal selection. As a special bonus, this purchase includes access to the recording of our recent virtual tasting event, a comprehensive PowerPoint presentation, and technical notes for these remarkable wines.
Embark on an unforgettable wine journey with Kramer Vineyards, where passion, expertise, and exceptional craftsmanship converge. Order your exclusive Pinot Noir Single Clone Collection today and immerse yourself in the captivating realm of single-clone Pinot Noir.
Note: Limited quantities available. Secure your collection now to savor the beauty and diversity of these remarkable wines.