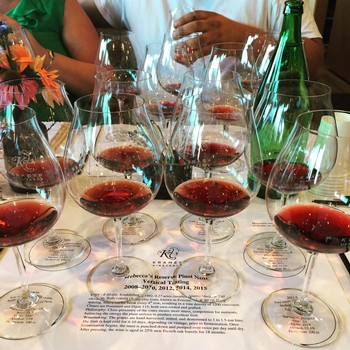 Heritage Pinot Noir Vertical Tasting
November 2 & 3
Visit us at our vineyard in Gaston and taste six vintages of Heritage block Pinot Noir at our Annual Vertical Tasting.
These Pinots are truly unique--a pure expression of Pinot Noir from our vineyard. From the oldest vines planted in 1984, this one-acre site consists of 100% own-rooted Pommard clones.
The grapes from this part of the vineyard showed promise early on. In the 90s, owners Trudy & Keith Kramer consistently selected barrels from this block to go into their Pinot Noir Reserve wines. Starting in 2003, they began bottling the Heritage block Pinot Noir under its own label. The Heritage Pinot Noirs are among our most structured, cellar-worthy wines with a sense of place & time.

Hosted by owners Trudy & Keith Kramer, learn the history of the Heritage block, taste and discover the range of expression spanning six vintages.
Tasting Fee: $25/person; Complimentary for Wine Club Members