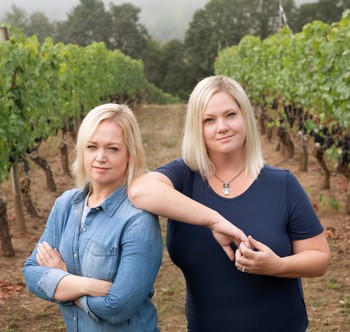 Millennial Mix
Shipping Included
Growing up in the wine industry, Kim and Becky have developed adventurous palates. While they always appreciate a great bottle of Pinot Noir, they tend to gravitate toward delicious wines that generate conversation.
Piquette (750 mL): With just 7.5% abv, this is the perfect pick-me-up, after-work libation, or aperitif. Light and fizzy with flavors of tart pomegranate and blueberries, it's a great way to transition from worktime to playtime.
2020 Pétillant Naturel Pinot Gris: In contrast to our traditional method sparkling wines, the pet-nat is a wild creature--bottled at the end of primary fermentation, it captures all the flavors of harvest! Slightly hazy with plentiful, tiny bubbles, and aromas of peach, pineaple, citrus, honeysuckle, lime, lychee, and mango. Light and foamy on the palate, with flavors of pear, Meyer Lemon, almond, cucumber, and a hint of spearmint, with round, stony minerality.
2018 Grüner Veltliner: We have just 500 vines of this grape variety on the property, producing small amounts of still and sparkling wine. This vintage is fresh and citrusy, with aromas of lemon, lime, and cucumber, with accents of peach, white flowers and freshly cut grass. On the palate, this wine is dry, with a lovely medium-light weight and acidity that manages to be both bright and round. Flavors of peach, green apple, pear, and a long finish.
2020 Pinot Noir Blanc: Sourced from Monk's Gate Vineyard in Carlton, named after the gate the vineyard owners installed to allow the neighboring monks from the Trappist Abbey to continue their contemplative walks. Red-skinned fruits and baking spices abound in the bouquet—find notes of fresh cucumber, allspice, Rainier cherry, red apple, watermelon Jolly Rancher plum, hibiscus, and a hint of basil. Full, rich, and broad on the palate, with a pleasing richness balanced by tart apple, anise, vanilla, ginger, honey, and sweet spices in the very long finish.
27 Blocks: A coferment of all nine grape varieties in our vineyard, this easy-drinking red is perfect for warm weather.
2017 Pinot Noir Dijon 667: 100% Whole Cluster and all 667 clone, find candied cherries, raspberries, and allspice. Juicy on the palate, with flavors of strawberries, raspberries, and a hint of molasses. Light-bodied with easy, lithe tannins.