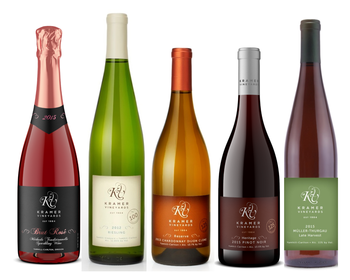 Thanksgiving Collection
Our top picks for wines to enjoy this Thanksgiving
2015 Brut Rosé: This dry, cranberry-red sparkling wine is wonderful with turkey and stuffing.
2014 Riesling: A fruity white is always a crowd-pleaser, and the acid profile in this wine is a nice balance for rich dishes.
2014 Chardonnay Reserve: A perfect combination of fresh pineapple, tart acidity, and opulent mouthfeel is excellent with potatoes au gratin or cream-based soups.
2014 Pinot Noir Heritage: We always have a bottle of earthy Pinot Noir on the Thanksgiving table. This vintage is owner Keith Kramer's current favorite.
2008 Pinot Noir Estate: From one of the most lauded vintages in recent history, this wine is having a wonderful second peak.
2015 Müller-Thurgau Late Harvest: Serve chilled with pumpkin pie or a cheese plate.