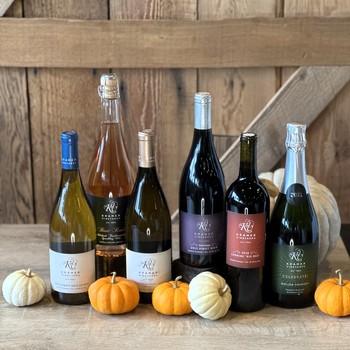 The Harvest Bounty Half-Case
An Exclusive Collection of Palate-Pleasing Wines for Intimate Celebrations
Elevate your intimate gatherings with our carefully curated 6-Pack, The Harvest Bounty Selection. For Thanksgiving, we understand the importance of selecting wines that not only delight your palate but harmonize seamlessly with the array of flavors on your table.
In this collection, we've handpicked vintages showing beautifully, ensuring each bottle complements the rich tapestry of Thanksgiving flavors. Here's why we've chosen these wines:
NV Brut Rosé: This sparkling Rosé refreshes the palate against rich, creamy dishes or bolder flavors. Its juicy red fruit flavors provide a delightful contrast to the savory herbs and spices of Thanksgiving recipes.
2021 Pinot Gris Estate: Crafted from our estate-grown grapes, this Oregon Pinot Gris is crisp and boasts a delightful tree fruit character. Its fuller-bodied profile stands up to the robust flavors of a Thanksgiving meal. Our winemaker holds the 2021 vintage in high regard, making it an exceptional choice.
2018 Chardonnay Estate: An excellent selection for Thanksgiving, this Oregon Chardonnay combines crispness, brightness, and richness. It harmonizes beautifully with turkey, gravy, and mashed potatoes, offering balance to the richness of the food. Additionally, it pairs seamlessly with mild cheeses and mixed nuts, making it a versatile choice for your meal.
2013 Pinot Noir Heritage (library selection): A gracefully aged Pinot Noir from our oldest vines, the 2013 vintage is a stunning addition to any special occasion. Its tart, tangy red fruit notes complement fall dishes like cranberry sauce, while its savory, woodsy undertones harmonize with autumn produce and herbs. This Pinot Noir is a classic match for Thanksgiving dishes with simple spicing or cream-based elements.
2018 Carmine: With its great acidity, dried cherry notes, gingerbread spice, and savory nuances, it comes to life when paired with turkey and gravy, hard cheeses, or comforting mac and cheese.
2021 Celebrate Sparkling Muller-Thurgau: A bestseller, this sparkling wine seamlessly transitions from dinner to dessert. It's our top recommendation for pairing with pumpkin or apple pie, and it exquisitely complements mild cheeses.
The Harvest Bounty Selection ensures that each sip is a harmonious dance with the flavors of your Thanksgiving feast. Elevate your celebration with this exclusive collection.