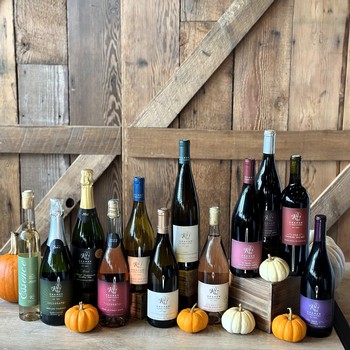 The Thanksgiving Table Ensemble
A Diverse and Food-Friendly Selection for Your Grand Thanksgiving Feast
Prepare for a grand Thanksgiving celebration with our Mixed Case Grand Feast Collection, The Thanksgiving Table Ensemble. This carefully curated assortment is designed to complement the rich tapestry of flavors that define this cherished holiday.
Sparkling Selection:
2022 Celebrate Rosé of Pinot Noir: Delight in the effervescent charm of this exquisite Rosé, a perfect prelude to your grand feast.
2021 Celebrate Müller-Thurgau: A sparkling Müller-Thurgau that adds a touch of elegance and effervescence to your Thanksgiving gathering.
2016 Brut, 48 months en tirage: This beautifully aged Brut offers a sophisticated sparkle, adding a touch of opulence to your celebration.
White Wines:
2021 Pinot Gris Estate: A bright and fruity Pinot Gris from our own estate-grown grapes, offering a crisp and refreshing palate.
2018 Chardonnay Estate: A balanced Chardonnay with crispness, brightness, and richness, harmonizing beautifully with traditional Thanksgiving fare.
2021 Müller-Thurgau Estate: Discover the charm of this estate-grown Müller-Thurgau, a versatile white wine with a pleasing fruit character.
2022 Rosé of Pinot Noir: This Rosé offers a delightful burst of red fruit flavors, adding a vibrant touch to your Thanksgiving table.
Red Wines:
2018 Pinot Noir Estate: Experience the elegance of our estate-grown Pinot Noir, a versatile red wine perfect for the Thanksgiving spread.
2013 Pinot Noir Heritage: A library selection, this gracefully aged Pinot Noir from our oldest vines is a testament to the art of winemaking.
2018 Carmine: With great acidity, dried cherry notes, and a touch of gingerbread spice, our Carmine shines alongside traditional holiday dishes.
2016 Syrah: This bold Syrah adds a touch of richness and depth to your Thanksgiving feast, a perfect match for heartier fare.
Dessert Wine:
2020 Essence of Müller-Thurgau: Conclude your feast with this exquisite dessert wine, a sweet and aromatic finale to your Thanksgiving celebration.
The Thanksgiving Table Ensemble ensures that every moment of your holiday gathering is marked by exquisite pairings and memorable sips. Elevate your feast with this diverse and food-friendly selection.