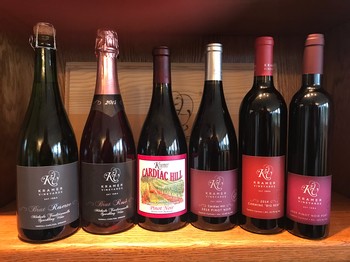 Valentine Wine Picks
Wines to fall in love with
2015 Brut Rosé, $38
What could be more perfect than pink bubbly on Valentine's Day? Serve with a charcuterie board or as an aperitif.

Brut Reserve, $32
Fermented in neutral French oak, this rich, complex bubbly is the ideal partner for oysters or lobster.

2007 Pinot Noir Cardiac Hill, $45 & 2014 Pinot Noir Cardiac Hill, $45
Pinot Noir, the "hearbreak grape" is especially fickle on Cardiac Hill, our steepest hillside of vines. The elegant, delicate, savory 2007 and darkly fruity 2014 provide a contrast in styles, and show the range of flavors this site is capable of. The only heartbreak here is when the bottle is empty.

2014 Carmine, $38
Owners Trudy and Keith Kramer now joke that this late-ripening, full-bodied red is their marital harmony wine, as there was some disagreement about whether to plant these vines in 1989. They found room for compromise, and now this esoteric wine with cranberries, plum, tobacco, and pepper has become a culty tasting room favorite.

2009 Pinot Noir Port, $30
Served with dark chocolates or as a digestif, this nightcap is a stunning finale to any meal.