Winery Blog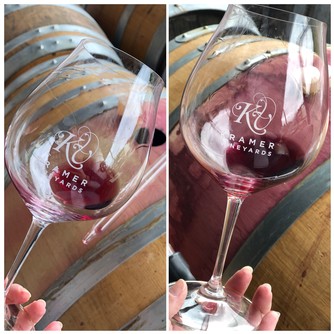 When we taste through barrels in the cellar, we're often doing so to gauge where the wine is at in the aging process. It's important to adjust expectations relative to where the wine is in its development. Early on, there's a lot of primary fruit, and the acidity and tannins can seem quite disjointed. However, after the wines winter over and warm back up in the spring, they undergo malolactic fermentation. This is where bacteria that consumes the harsher malic acid and converts it to the smoother lactic acid. The result of this process also influences mouthfeel, complexity, and perception of tannins. The wines become rounder, more integrated, and complex. Because malo has such a profound effect on the tannins, we usually don't evaluate structure or do blending trials until malo is complete, which usually occurs in May-June.
These post-malo wines are still young, but well on their way to showing us what they're about. Is the vintage taut and tannic like the 2011s, or spicy and round like 2014, or big and showy like 2012? Finding these links to past vintages helps inform our racking and blending decisions.
Why we offer barrel tasting in July
The wines are usually through malo, and have been racked, blended, settled, and returned to barrel to continue aging for 3-9 months by late June. The wines are stable and clean with minimal barrel variation. It's the best time to offer a glimpse of what these wines will be until they are released over the next several years.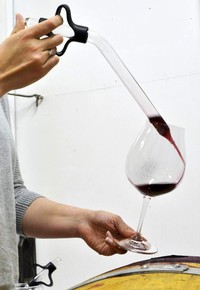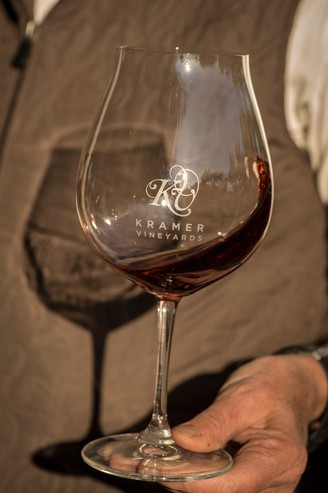 What to look for when evaluating a wine in barrel
The wines are going to be intense at this stage, so expect the tannins to be more grippy than in a finished wine, and the acidity to be angular. That's okay, the wines will age into this eventually. Taste around these youthful characteristics and find the fruit. Is the fruit red, blue, or black? Are the spices sweet or savory? How heavy is the wine in the mouth? And, how do these components work together? Considering the wine's youth, is it balanced? And most importantly, do you like it?


Becky Kramer
With grilling and cookout season around the corner, it's time to stock up on wines for summer entertaining. Second-generation Willamette Valley winegrower Kramer Vineyards produces both still and sparkling rosés. The winery's General Manager and grilling enthusiast Becky Kramer shares her top picks for selecting wines for your next barbecue.
"Always have plenty of chilled sparkling wine and rosé on hand. They're some of the most food-friendly wines out there! The combination of refreshing, bright acidity and fruity flavors really works with the savory smokiness of the grill. A dry rosé can pair with everything from shellfish to pulled pork sliders, ribs, burgers and sausages—even the potato salad."
The Willamette Valley is synonymous with Pinot Noir, and Kramer has plenty of experience pairing this with salmon, pork chops, lamb, chicken and game birds. "Oregon Pinot noir is quite versatile with grilled foods too," she notes, "it's inherently earthy and smoky, often spicy, and the red or dark fruitiness pops nicely without dominating the meal." If beef is on the menu, she'll open something darker, like a Syrah or Rhône blend. "Beef usually needs wines with more tannins, so reach for something that will stain your teeth."
At her own grill, Becky says she loves to cook meat of all types, but drumsticks are her favorite, "there's something incredibly satisfying about standing over the grill with tongs in one hand and a glass of wine in the other." Her favorite wine to serve? Rosé of course, "still or sparkling, as long as it's dry."
Becky's fondness for grilling was fueled by her childhood growing up in wine country. "We have a hill that overlooks the vineyard and is our favorite spot to grill with friends. In the summertime, we'll host causal cookouts and everyone brings good sides and wine to share while the meat or fish is cooking. It's a wonderful communal experience in a relaxed atmosphere, and the view is amazing."
Kramer Vineyards is releasing a new collection of rosé wines from its estate vineyard in the Yamhill-Carlton AVA, just in time for barbecue season.
2017 Rosé of Pinot Noir
2017 Rosé of Carmine
2017 Rosé of Pinot Gris
2017 Celebrate Sparkling Rosé of Pinot Noir
2017 Celebrate Sparkling Rosé of Pinot Gris

We love this dish because it's so easy to adapt! The simple wine and cheese sauce is delicious on its own, and adding tender greens, shellfish, smoked fish or poultry are tasty variations, and all pair beautifully with Chardonnay.
Ingredients
1 pound pasta—we used fettucine, but penne is good too
2 T butter
2 T flour
4 cloves garlic, minced
1-medium onion, minced
1/2 cup dry white wine (we used Chardonnay)
1 T Dijon mustard
8 oz sharp white cheddar cheese, grated (we used Face Rock Extra Aged Cheddar)
1.5 cups milk
Fresh thyme sprigs
Smoked paprika to taste
Salt and pepper (we passed Jacobsen Salt Co.'s Lemon Zest at the table)
Optional add-ins: greens like spinach or arugula; cooked shrimp or chicken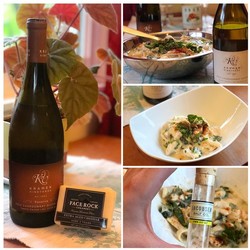 Instructions
Cook pasta to al dente, reserving ½ cup of the pasta water. You want the pasta to have a little bite so it can absorb some sauce later without getting to soft. While the pasta cooks, melt butter in a large skillet over medium heat. Add garlic and onion, saute until fragrant, about a minute. Add flour and whisk to combine, letting it bubble a bit. Add wine and mustard; stir to combine. Then slowly stir in the milk, and simmer at a low bubble until thickened, 5-7 minutes. Add cheese and stir to melt. Reduce heat to low, and stir in pasta, along with any greens, shrimp, or chicken you'd like to have in the dish. Cook until the greens, if using, have wilted. Add a little reserved pasta water if you'd like to thin the sauce. To serve, spoon into pasta bowls and garnish with smoked paprika and fresh herbs. Perfect with a cool (but not too cold) glass of Chardonnay!

Fondue is perfect with aromatic whites, including Müller-Thurgau, Riesling, or Pinot Gris
INGREDIENTS
1 pound Alpine cheese: Raclette, Comté, and/or Gruyère, grated (about 5 cups)

1 tablespoon cornstarch

1 clove garlic, minced

1 cup (or more) dry white wine

Kosher salt and freshly ground black pepper

For dipping: potatoes, bread cubes, roasted vegetables (broccoli, cauliflower, asparagus, brussels sprouts), pear and/or apple slices, cooked shrimp, chicken, or beef
Instructions: Toss the grated cheese with the cornstarch, set aside. In a fondue pot or double boiler over medium-high heat, add garlic and a splash of wine. Allow it to bubble and sear for about 30 seconds, then add remaining wine. When the wine begins to bubble, reduce to medium heat. Gradually add shredded cheese a handful at a time, stirring to melt each handful before adding the next. After all the cheese has been added and melted, reduce the temperature to low and enjoy!

Serves 4

KV: How did you get in to wine?
Trudy: I bought a winemaking book in 1970. I thought it might be fun, and it looked really interesting, because you could make wine from lots of things, not just wine grapes. It was winter, and there were oranges in the grocery store for a very reasonable price, so I decided to go ahead and give it a try. One gallon!
KV: Was it any good?
Trudy: It was very good! I was kind of surprised.
KV: What was the moment you knew you wanted to be a winemaker?
Trudy: Fast forward ten years, it was 1980, and I was taking a Wines of the World appreciation class from Matt Kramer in Portland. And he had a Burgundy night. The wines actually came from his cellar, and the last one of the night was a fantastic red Burgundy that made me stop and think, wow, we should be able to make something this good in Oregon. I hadn't tasted that many Burgundies before, and this one stopped me in my tracks. I was in total awe of that wine.
KV: Do you know what wine it was?
Trudy: I think it was a DRC, but I don't remember the vintage.
KV: How did you come to find the property that would be the future Kramer Vineyards?
Trudy: We came into Forest Grove, and went into a small realtor and he knew of a property for sale on Olson Road that might work. We looked at other properties, and realized we wanted to start from scratch. The Gaston property made sense because there was so much open land, and we could basically mow and plant right away. Also, Elk Cove was right down the road, and we like their wines, and the aspect of the land was right. Plus all these things were happening that was very encouraging around the time we bought the property in 1983. The first Oregon Winegrape Growers guide came out, and then there was the Cool Climate Viticulture Seminar in Eugene in 1984. There was just a lot of great energy about the Oregon wine industry at that time.

KV: Did you have a mentor in the business, or were you on your own?
Trudy: I think we were pretty much on our own, but we definitely took advice from others in the industy. Jim Leyden of Courting Hill Vineyard was very encouraging on the vineyard side of things. Of course, Rich Cushman. I took a winemaking class from him at Clackamas Community College in 1984.

KV: What highlights or challenges during those first few years have had a lasting impact?
Trudy: Well, the first time we ever received grapes. We got our license to process grapes at 1pm and were sorting by 5pm. And then we realized we didn't know how to operate the press. The directions said to use water, but our water pressure wasn't high enough. So we eventually decided to use an air compressor, which was much more effective. And that was really the start of our problem-solving, which is essential for this business. It's always an adventure trying to figure out how to make the equipment work right.
At that time, the standard was to buy land, plant grapes, and make wine there. There were a whole lot less wineries, of course. The growth we've seen in the number of wineries and in wine retail has been phenomenal. That model has changed a great deal. There's a lot more options now for people who want to make wine.

KV: What advice would you give to women who want to pursue a career in wine?
Trudy: Go for it! There are a lot of women in the wine business in Oregon at all levels. There's a lot of opportunity here. Don't be intimidated.

KV: If you could drink any wine in the world, what would it be?
Trudy: Oh that's a toughie. I guess I'd have to go back to Burgundy and drink more DRC.

History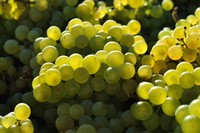 Müller-Thurgau is a white grape variety created by Dr. Hermann Müller from the Swiss Canton of Thurgau in the 1880s. The goal was to cross Riesling, capturing its rich, complex flavors, with the earlier ripening Sylvaner. However, neither of these goals was achieved, nor was Sylvaner crossed with Riesling. DNA fingerprinting has revealed that Müller-Thurgau is a cross of Riesling and a grape called Madeleine Royale. The latter, as it turns out, is a cross of Pinot and Trolliger. Most widely planted in Germany, Müller-Thurgau is also found in Austria, Northern Italy, Switzerland, Czech Republic, Japan, and of course, the United States.
How we discovered MT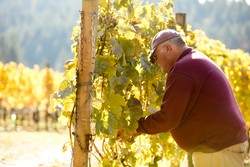 In 1980, vineyard owner Keith Kramer took a viticulture class at Erath every other Saturday for three months. The instructor Al Holstein, had some Müller-Thurgau planted in his vineyard. This was very exciting to another student in the class, who peppered Holstein with questions about the grape. Keith was not very interested in Müller-Thurgau initially, but the guy "made such a stink about it" that when the Kramers had an opportunity to buy some fruit from Courting Hill Vineyard a few years later they decided to try it. That first wine was a very fruity, off-dry white that had enough potential that they went ahead and procured some starts from Sokol Blosser in the mid-1980s.
Müller-Thurgau emerges as our flagship white
Müller-Thurgau was among the first wines in our tasting room for our grand opening in 1990, and it quickly gained a following. We increased the acreage in our estate vineyard to three, which does not sound like much, but this variety routinely produces 4-6 tons to the acre, double or triple the yield compared to Pinot Noir. As our production grew, we experimented with assorted styles, including a sparkling wine, a dessert wine, a dry barrel-fermented wine, and a late harvest wine. The stainless, fruity Estate bottling is our most popular wine, followed by the Celebrate sparkling wine.
It is easy to see why Muller-Thurgau is a tasting room favorite. In a region full of Pinot Gris, and to a lesser extent Chardonnay and Riesling, Müller-Thurgau stands out. Its unique flavor profile with starfruit, lychee, melon, hints of orange blossom and gardenia, gentle acidity with a sweet and sour effect on the palate makes it easy to sip. Plus, Müller ripens at lower sugar levels, so the alcohols in the finished wines are lower than many table wines, usually around 11%.
March 17 & 18: Müller Madness
St. Patrick's Weekend, 11 am to 5 pm
To showcase our best-selling wine, we are hosting our annual Müller Madness event. This tasting features a range of styles made from Müller-Thurgau, including current, pre-releases, and wines from our library. Dry to sweet, sparkling and still, explore and discover what Müller-Thurgau is all about! Audaddy's will be here from 12-4 pm on Saturday with their gourmet hot dogs and brats, and we'll have Bavarian themed snack boards available from our small plates menu all weekend.


Ingredients
1 onion

5 cloves garlic

5 carrots

4 Roma tomatoes

1 head cauliflower

4 lbs. oxtail

1 cup water

1 ½ cups Kramer Vineyards Pinot Noir Estate

1/3 cup Montreal steak seasoning

1 tbsp parsley

5 bouillon cubes- crumbled up

1-15.75 oz. can tomato sauce

1 tbsp butter

½ cabbage head
Prep work!
I like to get all the prep work out of the way before I start to cook. Chop: Onion, garlic, carrots, tomatoes and cauliflower. Keep separate. Shred: Cabbage. Trim: Fat off the oxtail. I trimmed a little in the areas where there was more fat than others.
Now its time for the fun part!
Set the Instant Pot to the sauté setting on high heat. Add the 1 tbsp of butter and melt. While the butter is melting, cover each end of the oxtail in the Montreal steak seasoning. Once they are seasoned, dust the ox tail with the parsley flakes. When the Instant Pot is hot enough, I sear ALL edges of the oxtail till it is brown. Once the pieces are seared, use tongs to remove them from the pot and set aside. You will have to do this in batches. Pro tip- If things are beginning to stick to the bottom of the pot, use some red wine to deglaze the pan.
Once the searing is done, add another dash of red wine to the Instant Pot and add the garlic and onions. Sauté them until they are getting soft, less than 5 minutes. Next add the tomatoes, tomato sauce, crumbled bouillon cubes, water and mix the ingredients. Add the oxtails with a cup of red wine. Top the pot with carrots. Set on the pressure cook setting on high for 40 minutes. Allow the pressure to slow release once the time is up. You will know the soup is done once the oxtail meat falls off the bones. When the soup is ready, add the cabbage to the soup and mix it all together!
Roasting the cauliflower: This is a step I like to do when I have 30 mins to 45 mins before dinner is ready. Toss the cauliflower florets in some olive oil, salt and pepper. Spread out on a pan and roast at 350 degrees for 35-45 minutes.
Don't have an instapot? No worries!
Crock-Pot alternative: Follow the instructions for the sauté steps, just use a pan! Once you finish sautéing the onions and garlic, transfer the ingredients to a crock pot. When all the ingredients are added, cook on low for 8 hours or high for 4-5 hours.
Serving: Place the roasted cauliflower at the bottom of the soup bowl and top with the oxtail soup. We suggest that this soup is served with Kramer Vineyards 2014 Carmine!

This was one of our favorite dishes during harvest, perfect for warming up after a cool and damp day on the crush pad.
Ingredients
6 Pounds Beef Short Ribs

Salt and Pepper for seasoning

4 Tablespoons Olive Oil

3 Tablespoons Butter

3 Beef Stock Cubes OR 3 tablespoons of Beef Bouillon

1 onion chopped

8 Garlic Cloves

6 Large Carrots, cut into chunks

2 Tablespoons Tomato Paste

2 Cans Petite Diced Tomatoes (14.5 oz. can)

3 Bay leaves

4 sprigs of fresh thyme

Parsley to garnish
Instructions
In a large pan over medium heat, add half of the olive oil and butter. Season the meat with salt and pepper then sear on all sides in the hot pan, about 2-3 minutes on each side. When the short ribs are done are browned, place them in the crock-pot. Pro-Tip: if the pan gets dry, you may need to add a little more butter and olive oil during the process. I like to deglaze the pan with a little red wine to help keep things from sticking to the pan. This also adds some extra flavor! I drop the beef stock cubes in the pot after the meat is browned and arranged. I like to put them towards the bottom of the crock-pot, so they have a chance to dissolve as it is cooking. I get lazy about some things in the kitchen and using water to make broth is one of them! Now that your frypan is deglazed, sauté the onions, garlic cloves, and tomato paste in a little more butter and olive oil, just until it is fragrant, less than a minute. Place the sautéed mixture in the crock-pot on top of the ribs. Add the carrots, diced tomatoes, Kramer Vineyards Carmine, bay leaves and thyme sprigs to the crock-pot. Top with another dose of salt and pepper. Put on the lid and cook on low for 6-8 hours.
You can serve this dish on top baked, roasted or mashed potatoes, polenta, or cauliflower. It is a hearty dish that is PERFECT for a winter evening, especially with a glass of Kramer Vineyards Carmine!

I never really gave clonal choice too much thought until recently. As a second generation winemaker with an established vineyard, our clonal selections were made many years before I decided to pursue a career in wine. Why focus on this aspect when there are so many variables at play—soil type, elevation, vine density, vine age, slope, trellis system, own rooted or grafted? Aside from the differences in ripening time, are the clones of Pinot Noir really all that distinguishable, or is it mere trivia?
There are more known clones of Pinot Noir than any other grape variety. When we established our vineyard in 1984, there were three clones available: Pommard, Wädenswil and Gamay Beaujolais. The Dijon clones, such as 114, 115, 667, etc., began to come into Oregon in the late 80s and early 90s. These clones may differ in any number of ways—cluster size and shape, berry size, color, early or late ripening, etc. Now there are over 50 clones of Pinot Noir available in the United States, and we're up to 9 at our estate.

As interest in these new clones has increased, we began to study them more closely in our vineyard. The higher crop levels in 2014 led us to introduce a series of single clone wines of Pinot Noir: Dijon 115, Dijon 777, and Pommard. For these, we followed similar winemaking protocols to allow for the clearest clonal expression possible. The fruit was harvested by hand and 25% whole clusters were layered on the bottom of 1-ton vats, and topped with destemmed fruit. After a 5-day cold soak, fermentation began. The must was pumped over and punched down twice daily and pressed at dryness. The wine was aged in neutral French oak barrels for 14 months and bottled.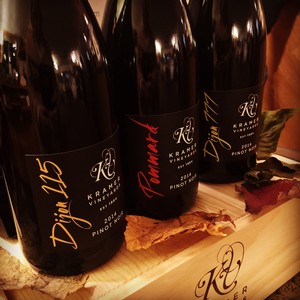 It is too early to ascribe personalities to each of these clones based on one vintage. However, these three wines are quite different from one another, leading me to rethink perspective on clonal significance. The Dijon 777 clone is remarkably spicy, with dark berry fruit and black tea. Whereas the Dijon 115 is far subtler, with a delicate earthiness and minerality. The Pommard is the closest to what I would describe as a classic Oregon Pinot Noir, but perhaps that's due to my familiarity with our Pommard-dominant vineyard? With this series and those to come in future vintages, we hope to further our understanding of each clone in the vineyard and in the cellar.
This limited collection is available for tasting on January 20 & 21, and in our online store.
Recent Posts
June 27, 2018

May 23, 2018

April 13, 2018

April 11, 2018

March 1, 2018

February 19, 2018

February 1, 2018

January 30, 2018

January 29, 2018

January 16, 2018
Blog Categories