Winery Blog

History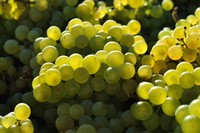 Müller-Thurgau is a white grape variety created by Dr. Hermann Müller from the Swiss Canton of Thurgau in the 1880s. The goal was to cross Riesling, capturing its rich, complex flavors, with the earlier ripening Sylvaner. However, neither of these goals was achieved, nor was Sylvaner crossed with Riesling. DNA fingerprinting has revealed that Müller-Thurgau is a cross of Riesling and a grape called Madeleine Royale. The latter, as it turns out, is a cross of Pinot and Trolliger. Most widely planted in Germany, Müller-Thurgau is also found in Austria, Northern Italy, Switzerland, Czech Republic, Japan, and of course, the United States.
How we discovered MT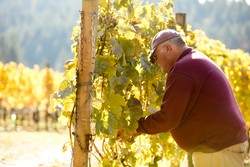 In 1980, vineyard owner Keith Kramer took a viticulture class at Erath every other Saturday for three months. The instructor Al Holstein, had some Müller-Thurgau planted in his vineyard. This was very exciting to another student in the class, who peppered Holstein with questions about the grape. Keith was not very interested in Müller-Thurgau initially, but the guy "made such a stink about it" that when the Kramers had an opportunity to buy some fruit from Courting Hill Vineyard a few years later they decided to try it. That first wine was a very fruity, off-dry white that had enough potential that they went ahead and procured some starts from Sokol Blosser in the mid-1980s.
Müller-Thurgau emerges as our flagship white
Müller-Thurgau was among the first wines in our tasting room for our grand opening in 1990, and it quickly gained a following. We increased the acreage in our estate vineyard to three, which does not sound like much, but this variety routinely produces 4-6 tons to the acre, double or triple the yield compared to Pinot Noir. As our production grew, we experimented with assorted styles, including a sparkling wine, a dessert wine, a dry barrel-fermented wine, and a late harvest wine. The stainless, fruity Estate bottling is our most popular wine, followed by the Celebrate sparkling wine.
It is easy to see why Muller-Thurgau is a tasting room favorite. In a region full of Pinot Gris, and to a lesser extent Chardonnay and Riesling, Müller-Thurgau stands out. Its unique flavor profile with starfruit, lychee, melon, hints of orange blossom and gardenia, gentle acidity with a sweet and sour effect on the palate makes it easy to sip. Plus, Müller ripens at lower sugar levels, so the alcohols in the finished wines are lower than many table wines, usually around 11%.
March 17 & 18: Müller Madness
St. Patrick's Weekend, 11 am to 5 pm
To showcase our best-selling wine, we are hosting our annual Müller Madness event. This tasting features a range of styles made from Müller-Thurgau, including current, pre-releases, and wines from our library. Dry to sweet, sparkling and still, explore and discover what Müller-Thurgau is all about! Audaddy's will be here from 12-4 pm on Saturday with their gourmet hot dogs and brats, and we'll have Bavarian themed snack boards available from our small plates menu all weekend.


Ingredients
1 onion

5 cloves garlic

5 carrots

4 Roma tomatoes

1 head cauliflower

4 lbs. oxtail

1 cup water

1 ½ cups Kramer Vineyards Pinot Noir Estate

1/3 cup Montreal steak seasoning

1 tbsp parsley

5 bouillon cubes- crumbled up

1-15.75 oz. can tomato sauce

1 tbsp butter

½ cabbage head
Prep work!
I like to get all the prep work out of the way before I start to cook. Chop: Onion, garlic, carrots, tomatoes and cauliflower. Keep separate. Shred: Cabbage. Trim: Fat off the oxtail. I trimmed a little in the areas where there was more fat than others.
Now its time for the fun part!
Set the Instant Pot to the sauté setting on high heat. Add the 1 tbsp of butter and melt. While the butter is melting, cover each end of the oxtail in the Montreal steak seasoning. Once they are seasoned, dust the ox tail with the parsley flakes. When the Instant Pot is hot enough, I sear ALL edges of the oxtail till it is brown. Once the pieces are seared, use tongs to remove them from the pot and set aside. You will have to do this in batches. Pro tip- If things are beginning to stick to the bottom of the pot, use some red wine to deglaze the pan.
Once the searing is done, add another dash of red wine to the Instant Pot and add the garlic and onions. Sauté them until they are getting soft, less than 5 minutes. Next add the tomatoes, tomato sauce, crumbled bouillon cubes, water and mix the ingredients. Add the oxtails with a cup of red wine. Top the pot with carrots. Set on the pressure cook setting on high for 40 minutes. Allow the pressure to slow release once the time is up. You will know the soup is done once the oxtail meat falls off the bones. When the soup is ready, add the cabbage to the soup and mix it all together!
Roasting the cauliflower: This is a step I like to do when I have 30 mins to 45 mins before dinner is ready. Toss the cauliflower florets in some olive oil, salt and pepper. Spread out on a pan and roast at 350 degrees for 35-45 minutes.
Don't have an instapot? No worries!
Crock-Pot alternative: Follow the instructions for the sauté steps, just use a pan! Once you finish sautéing the onions and garlic, transfer the ingredients to a crock pot. When all the ingredients are added, cook on low for 8 hours or high for 4-5 hours.
Serving: Place the roasted cauliflower at the bottom of the soup bowl and top with the oxtail soup. We suggest that this soup is served with Kramer Vineyards 2014 Carmine!

This was one of our favorite dishes during harvest, perfect for warming up after a cool and damp day on the crush pad.
Ingredients
6 Pounds Beef Short Ribs

Salt and Pepper for seasoning

4 Tablespoons Olive Oil

3 Tablespoons Butter

3 Beef Stock Cubes OR 3 tablespoons of Beef Bouillon

1 onion chopped

8 Garlic Cloves

6 Large Carrots, cut into chunks

2 Tablespoons Tomato Paste

2 Cans Petite Diced Tomatoes (14.5 oz. can)

3 Bay leaves

4 sprigs of fresh thyme

Parsley to garnish
Instructions
In a large pan over medium heat, add half of the olive oil and butter. Season the meat with salt and pepper then sear on all sides in the hot pan, about 2-3 minutes on each side. When the short ribs are done are browned, place them in the crock-pot. Pro-Tip: if the pan gets dry, you may need to add a little more butter and olive oil during the process. I like to deglaze the pan with a little red wine to help keep things from sticking to the pan. This also adds some extra flavor! I drop the beef stock cubes in the pot after the meat is browned and arranged. I like to put them towards the bottom of the crock-pot, so they have a chance to dissolve as it is cooking. I get lazy about some things in the kitchen and using water to make broth is one of them! Now that your frypan is deglazed, sauté the onions, garlic cloves, and tomato paste in a little more butter and olive oil, just until it is fragrant, less than a minute. Place the sautéed mixture in the crock-pot on top of the ribs. Add the carrots, diced tomatoes, Kramer Vineyards Carmine, bay leaves and thyme sprigs to the crock-pot. Top with another dose of salt and pepper. Put on the lid and cook on low for 6-8 hours.
You can serve this dish on top baked, roasted or mashed potatoes, polenta, or cauliflower. It is a hearty dish that is PERFECT for a winter evening, especially with a glass of Kramer Vineyards Carmine!

I never really gave clonal choice too much thought until recently. As a second generation winemaker with an established vineyard, our clonal selections were made many years before I decided to pursue a career in wine. Why focus on this aspect when there are so many variables at play—soil type, elevation, vine density, vine age, slope, trellis system, own rooted or grafted? Aside from the differences in ripening time, are the clones of Pinot Noir really all that distinguishable, or is it mere trivia?
There are more known clones of Pinot Noir than any other grape variety. When we established our vineyard in 1984, there were three clones available: Pommard, Wädenswil and Gamay Beaujolais. The Dijon clones, such as 114, 115, 667, etc., began to come into Oregon in the late 80s and early 90s. These clones may differ in any number of ways—cluster size and shape, berry size, color, early or late ripening, etc. Now there are over 50 clones of Pinot Noir available in the United States, and we're up to 9 at our estate.

As interest in these new clones has increased, we began to study them more closely in our vineyard. The higher crop levels in 2014 led us to introduce a series of single clone wines of Pinot Noir: Dijon 115, Dijon 777, and Pommard. For these, we followed similar winemaking protocols to allow for the clearest clonal expression possible. The fruit was harvested by hand and 25% whole clusters were layered on the bottom of 1-ton vats, and topped with destemmed fruit. After a 5-day cold soak, fermentation began. The must was pumped over and punched down twice daily and pressed at dryness. The wine was aged in neutral French oak barrels for 14 months and bottled.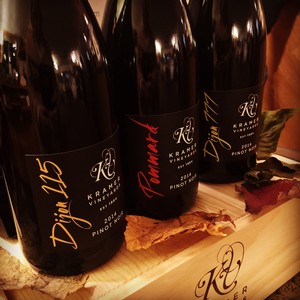 It is too early to ascribe personalities to each of these clones based on one vintage. However, these three wines are quite different from one another, leading me to rethink perspective on clonal significance. The Dijon 777 clone is remarkably spicy, with dark berry fruit and black tea. Whereas the Dijon 115 is far subtler, with a delicate earthiness and minerality. The Pommard is the closest to what I would describe as a classic Oregon Pinot Noir, but perhaps that's due to my familiarity with our Pommard-dominant vineyard? With this series and those to come in future vintages, we hope to further our understanding of each clone in the vineyard and in the cellar.
This limited collection is available for tasting on January 20 & 21, and in our online store.

Here are our top 10 wines, as determined by number of bottles sold in our tasting rooms and online.
Honorable Mention:
2016 Celebrate Rosé of Pinot Noir &
2016 Celebrate Pinot Noir Blanc

This pair of now sold-out sparkling wines made from Pinot Noir were club releases this spring, and tasting room favorites through the summer.

Our second label Pinot Noir delivers satisfying primary fruit at a price that makes it an easy bottle to open when the mood strikes.

9. 2016 Celebrate Grüner Veltliner, $28
From our third harvest of this grape variety, the peach, white pepper, and chalky minerality has only gotten more pronounced as the vines mature.

Hands-down our favorite wine to have with shellfish, this sparkling wine shows off the crisp, minerally side of the second most widely planted grape variety in the state.

7: 2013 Pinot Noir Estate, $28
This vintage isn't for the faint of heart. Starting with a hail storm during bloom and ending with a once in 100 year typhoon, it's a miracle we had any fruit to work with at all. What nature left behind resulted in Pinots with juicy, high-toned red fruit and intriguing floral aromas.

Our Pinot Gris vines were planted in the mid-80s, resulting in both the clarity of flavor, and unexpected depth make this wine a stunner. Plus, it ages gracefully--we're drinking vintages after 10+ years of cellar time, and they're stunning.

In contrast with the 2013 vintage, 2014 was a breeze--ideal weather during major stages of growth, and plenty of sun through harvest. The wines, though still young, have the approachability of a warm vintage Pinot, with lots of berry fruits and baking spices.

Our best-selling red wine isn't a Pinot Noir, but a little-known red double-cross that we planted in 1989. We've grown to love this thick-skinned, plummy, peppery, grape--especially with a steak.

A blend of Chardonnay, Pinot Noir,and Pinot Meunier, our classic Brut is a nice balance of fresh citrus, yeasty aromas, apple and pear, with a limey minerality.

We've been making this sparkling wine for over a decade. Tropical, with Asian Pear and honeydew melon, a hint of orange blossom and lychee, this bubbly has a sweet-tart effect on the palate that pairs nicely with spicy foods, fresh cheeses, and light desserts.

1. 2015 Müller-Thurgau Estate, $16
The bubble-free wine made from Müller boasts more citrus, minerality, and length. Easy to drink and share, it suits a wide range of palates and occasions, so it's always Müller time!

Fried foods are a wonderful pairing with sparkling wines. The dry 2015 Celebrate Pinot Gris is spectacular with this version; opt for the off-dry Müller-Thurgau if you decide to throw a jalapeno on there.
Ingredients
1-lb white fish, preferably cod

Vegetable oil for frying

Black pepper

1 cup of plain, full-fat yogurt

3 limes

Tapatio

1/3 cup mayonnaise

1 tsp garlic powder

1 head of purple cabbage

½ cup cilantro

1 red onion

Pride of the West All-Purpose Batter Mix

1 can of Rainier Beer

Corn Tortillas

2 tbsp butter

1 deep frying pan

1 shallow frying pan
Prep Work
Slice the cod into 3-4 inch strips. Dry the pieces with paper towels and season with Tony Chachere's Creole Seasoning and pepper. Put in a storage container and refrigerate. This is a good time to fill the bottom of your pan with about an 1-1 ½ inches of vegetable oil and turn on a medium high heat.

Yogurt Sauce: Mix together yogurt, juice of 1 lime, a few dashes of Tapatio, mayonnaise and garlic powder. I like the yogurt sauce for my fish tacos to be tangy with a touch of spice. You may need to adjust to fit your palate.

Toppings: Shred or chop the following and set aside in their own serving dishes: Cabbage, onion and cilantro.

Mix the batter and the beer. Watch the consistency here. You want the batter to be thick, kind of like pancake batter. Season with pepper and Tony's Chachere's Creole Seasoning. Pro Tip: There will probably be a little beer left over for your enjoyment.
Set up your fish taco frying station like an assembly line in this order: Batter, fish frying pan, tortilla frying pan, and end with a clean plate lined with paper towels to put the completed fried fish and tortillas on.

Now for the fun part. Toss a dash of water into the pan to see if the oil is ready. If it splatters when the oil touches the water, then its ready. If it doesn't splatter, then it needs more time. BE VERY CAREFUL HERE! This part reminds me of when bacon grease pops off the pan and tries to attack you. It can burn a little. When the oil is hot enough, bring the fish out of the refrigerator, dip into the beer batter and fry in the vegetable oil. You want the fish beer batter to be golden brown on both sides. Pro Tip: This is a good time to turn the heat down to medium.
Heat up the shallow frying pan on medium heat. Grease the pan with a light layer of butter. I like to grease it between every couple of tortillas. Heat the tortillas for a few minutes on each side.

Top the warm tortilla with a piece of fried fish, yogurt sauce, cabbage, cilantro, onion and a squeeze of lime. Enjoy with your favorite dry Kramer sparkling wine!
Serves 4

Kramer Vineyards harvest larger than ever before
With sparkling wines comprising 40 percent of their total production, Kramer Vineyards toasts the largest harvest in its 30-year history with a record-breaking offering of sparkling wine. To further celebrate, the family owned winery will offer 14 sparkling wine releases.
"We've always loved sparkling wines. They are extremely challenging to make because they're wines of such precision," said Winemaker Kim Kramer, who's been producing sparkling wines since the early 2000s. "It's rewarding to see the delight these wines bring to people's faces and to see them come back for more."

Dedicated to sharing the delight of its fizzy wines while quenching the thirst of a growing sparkling wine demographic, Kramer Vineyards opened a sparkling tasting room in Carlton in 2013 and soon started its own sparkling wine club. The winery has also been featured in many of Oregon's sparkling wine events including Bubbles Fest.

To celebrate, Kramer Vineyards is releasing a new collection of traditional method sparkling wines from its estate vineyard in the Yamhill-Carlton AVA. These wines are all bottle fermented, and composed of Pinot Noir, Chardonnay, and/or Pinot Meunier.
If you would like more information about this topic, please contact Kim Kramer at (503) 662-4545 or email at kim@kramervineyards.com.

Bud Break Through Veraison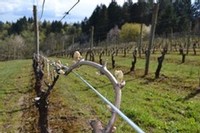 Vintage 2017 opened with a severe winter followed by a long, rainy spring. With five months of overcast skies and very few sunbreaks, the vines were slow to start. We observed over 50% budbreak by April 28, a bit late for our vineyard. The canopy started filling in when the sun finally came out in late May. Summer weather fully arrived the third week of June, and with temperatures in the high 80s, bloom rapidly occurred during the fourth week. Conditions were ideal for this growth milestone, contributing to excellent fruit set—the best we have seen since the 2009 and 2014 vintages. Veraison started on August 7, hitting the 50% mark two weeks later.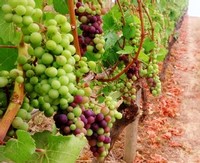 With our fullest crop in years, and a warm and dry forecast, we were on track for a big harvest. 2017 had some catching up to do for heat units, and by early September our GDDs were even with 2016. This, combined with low disease pressure, and an anticipated late September/early October harvest contributed to our decision to do minimal cluster thinning. In these conditions, carrying a heavier crop load forces the vine to work harder, slowing down ripeness, resulting in more balance.
Six Weeks of Harvesting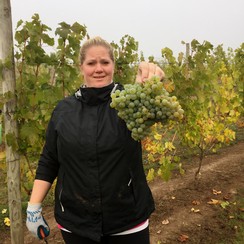 We started to notice a shift in flavor development after Labor Day Weekend, and began sampling the Pinot Noir, Pinot Meunier, and Chardonnay blocks for the sparkling harvest soon after. The sparkling harvest began on September 15, with the Pinot Meunier. The Pinot Noir and Chardonnay came in over the next several days. This was by far our largest sparkling yield, bringing in 10.3 tons from the estate, with an additional 9 tons from other sites. The increased crop load was due a combination of excellent conditions during bloom and fruit set, to our decision to thin minimally, and also due to heavier cluster weights. In a typical harvest, clusters from mature Pinot varieties will weigh `150 to 200 grams. In 2017, average cluster weights were closer to 300 grams, and some, as in the case of the Grüner Veltiner, tipped the scales at nearly two pounds! This trend would continue throughout much of the harvest.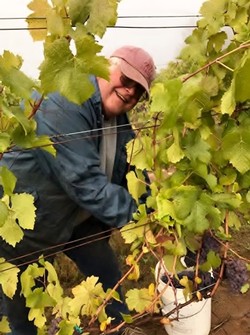 Much of the rest of late September and early October was dedicated to harvesting and pressing grapes for white wine production—Pinot Gris, Chardonnay, Gruner Veltliner, and Muller-Thurgau. Pinot Noir from warmer sites started coming in on October 9, with our estate fruit being harvested in mid-October. Before long, every fermentation vessel in the winery was full, and we had to purchase a few more tanks and vats to accommodate the extra fruit. Harvest concluded October 28, with the Carmine pick. By then, we were at full capacity—every tank, vat, barrel, and carboy was full. Overall, we brought in nearly 94 tons of grapes—20 more tons than our biggest year to date in 2014.
On the Crush Pad and in the Cellar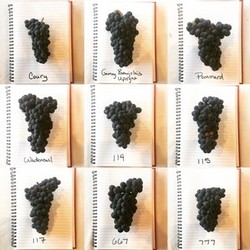 Once the fruit is picked, it is delivered to the crush pad for processing. For white and sparkling base wines, the grapes are sorted then pressed; for red and roses, the fruit is sorted and destemmed. This year, the fruit was in excellent condition, so most of the sorting required was to remove leaves and other non-grape material. The sound quality and overall ripeness of the Pinots led us to continue with whole cluster experimentation in higher percentages than ever before. We also expanded the number of clones of Pinot Noir we are working with to nine total.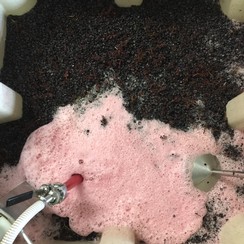 A combination of cool October nights and whole cluster fermentation extended maceration in the red ferments to an average of 30 days. We typically press at dryness, and that usually happens on a 10-14-day schedule when the fruit is all destemmed. With whole cluster ferments, sugars are trapped in the berries, limiting the sugars available to the yeast, prolonging fermentation. This meant that our fermentation management routine was extended by several weeks, and pushed our pressing dates further into November. Our last press was on the day before Thanksgiving, November 22. This is extraordinarily late compared to the last few years, when we were picked, pressed, and barreled down by mid-October.
For the white wines, fermentations were steady and healthy. Tank space is always a concern in years where yields are high, and in some cases, we elected to ferment in stainless or neutral barrels. In addition to barrel fermented Chardonnay, we also have Pinot Blanc, Pinot Gris, and Pinot Noir Blanc wintering over in barrels. These vessels will be stirred bimonthly through the spring, and either blended in with their tank counterpart to enhance mouthfeel and complexity, or be bottled on their own in the fall of 2018.
As we put another harvest behind us, the 2017s are wintering over in tanks and barrels. After the New Year, we'll begin to taste the wines individually, and start to make blending decisions and form bottling plans. The first wines of the vintage will be available in a few months, some won't be bottled until the spring of 2019. We are looking forward to what this record-setting harvest has in store.

What is dosage?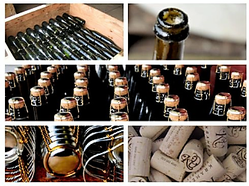 Dosage is a finishing syrup added to most champagnes and sparkling wines after the second fermentation in the bottle. Adding very small amounts of sugar can help to balance high acid wines, emphasize fruit, and improve texture. For one of the best explanations on this subject, see A Seasoning for Champagne, by Peter Liem.
How much dosage do we use?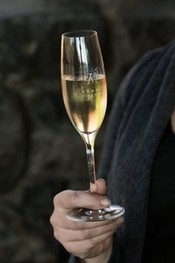 In the cellar, the first introduction to our sparkling wines is often a few months after it's been bottled, to see how the second fizz-creating fermentation is coming along. Tasting a sparkling wine for the first time in this raw state, dry, and dancing on cells of suspended yeast, is always a thrill.

Once the fermentation is complete, we begin to assess the necessity of dosage, and prepare a range of wines with sugar levels up to 10 grams per liter. In our history of making sparkling wines, the dosage levels have ranged from 3 to 8 grams per liter. However, these preferences aren't always clear cut, and we often have a fondness for the crisp, tart, and very dry wines without dosage as well.
Sometimes Less is More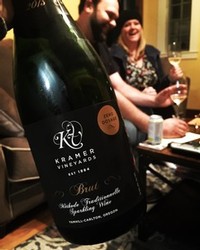 The low to zero dosage movement is a relatively recent trend, and more commonly found among grower-producers than big sparkling houses. While we certainly identify with the grower model, our interest in the style is rooted the idea that with a great fruit source, followed by good fermentation and cellar practices, that perhaps the best course of action is to take none, and let the wine speak for itself.
Recent Posts
February 19, 2018

February 1, 2018

January 30, 2018

January 29, 2018

January 16, 2018

December 31, 2017

December 28, 2017

December 28, 2017

December 27, 2017

December 20, 2017
Blog Categories
Blog Archives
Our Writers