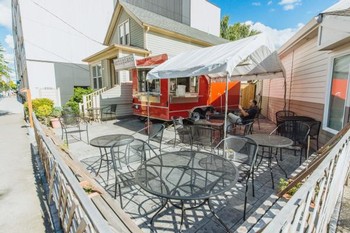 Winemaker Dinner at Artigiano
Enjoy an authentic, Italian winemaker dinner in SE PDX
This summer, the Kramer daughters discovered Artigiano, a gem of an Italian place on SE Division. The chef and owner, Rachael, visits Italy annually for culinary inspiration and education. Rachael then brings the new found knowledge and craft back to the kitchen in Portland to share with her guests. We are delighted to be able to partner with Artigiano to pair our wines with nine courses that highlight her Italian inspired, handmade, farm-to-table style cuisine.
Menu
Antipasti:
Olive, Carote Marinate, Melanzane Sott'olio, Zucchine alla Scapece
(Olives, Marinated Carrots, Eggplant and Zucchini)
2014 Brut
Gamberone, Polpo, Alici
(Grilled Shrimp, Grilled Octopus, White Marinated Anchovies)
2015 Brut Rosé
Bruschetta Pomodoro
(grilled bread with locally grown tomatoes, basil, garlic and olive oil)
Prosciutto e Melone
(Cured Ham and Melon)
2015 Celebrate Pinot Gris

Primi:
Bucatini al Limone (Pasta with Lemon, Zucchini & Pine Nuts)
2015 Pinot Gris Estate
Lasagne con i Fungi
(Handmade Lasagna Stuffed with Mushrooms and Topped with Truffle Oil)
&
Rigatoni con Sugo Sciattariciatti
(Pasta with "Squished Tomato Sauce")
2014 Pinot Noir Estate
Pappardelle con Cinghiale
(Handmade Pappardelle Tossed in Cream over Wild Boar Ragu)
2014 Pinot Noir Yamhill Vineyards
Secondi:
Brasato al Barolo
(Piemontese Style Beef)
2102 Nebbiolo
Grilled Rosemary Scented Lamb
2014 Carmine
Dolce:
2014 Essence of Müller-Thurgau
Product Reviews
Dianne Mondry
(Jul 27, 2017 at 9:35 AM)
This looks like a fun and tasty event.