Winery Blog

We love this dish because it's so easy to adapt! The simple wine and cheese sauce is delicious on its own, and adding tender greens, shellfish, smoked fish or poultry are tasty variations, and all pair beautifully with Chardonnay.
Ingredients
1 pound pasta—we used fettucine, but penne is good too
2 T butter
2 T flour
4 cloves garlic, minced
1-medium onion, minced
1/2 cup dry white wine (we used Chardonnay)
1 T Dijon mustard
8 oz sharp white cheddar cheese, grated (we used Face Rock Extra Aged Cheddar)
1.5 cups milk
Fresh thyme sprigs
Smoked paprika to taste
Salt and pepper (we passed Jacobsen Salt Co.'s Lemon Zest at the table)
Optional add-ins: greens like spinach or arugula; cooked shrimp or chicken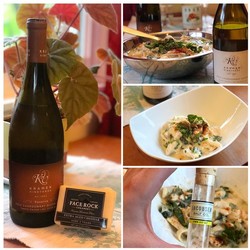 Instructions
Cook pasta to al dente, reserving ½ cup of the pasta water. You want the pasta to have a little bite so it can absorb some sauce later without getting to soft. While the pasta cooks, melt butter in a large skillet over medium heat. Add garlic and onion, saute until fragrant, about a minute. Add flour and whisk to combine, letting it bubble a bit. Add wine and mustard; stir to combine. Then slowly stir in the milk, and simmer at a low bubble until thickened, 5-7 minutes. Add cheese and stir to melt. Reduce heat to low, and stir in pasta, along with any greens, shrimp, or chicken you'd like to have in the dish. Cook until the greens, if using, have wilted. Add a little reserved pasta water if you'd like to thin the sauce. To serve, spoon into pasta bowls and garnish with smoked paprika and fresh herbs. Perfect with a cool (but not too cold) glass of Chardonnay!

Fondue is perfect with aromatic whites, including Müller-Thurgau, Riesling, or Pinot Gris
INGREDIENTS
1 pound Alpine cheese: Raclette, Comté, and/or Gruyère, grated (about 5 cups)

1 tablespoon cornstarch

1 clove garlic, minced

1 cup (or more) dry white wine

Kosher salt and freshly ground black pepper

For dipping: potatoes, bread cubes, roasted vegetables (broccoli, cauliflower, asparagus, brussels sprouts), pear and/or apple slices, cooked shrimp, chicken, or beef
Instructions: Toss the grated cheese with the cornstarch, set aside. In a fondue pot or double boiler over medium-high heat, add garlic and a splash of wine. Allow it to bubble and sear for about 30 seconds, then add remaining wine. When the wine begins to bubble, reduce to medium heat. Gradually add shredded cheese a handful at a time, stirring to melt each handful before adding the next. After all the cheese has been added and melted, reduce the temperature to low and enjoy!

Serves 4
Recent Posts
June 27, 2018

May 23, 2018

April 13, 2018

April 11, 2018

March 1, 2018

February 19, 2018

February 1, 2018

January 30, 2018

January 29, 2018

January 16, 2018
Blog Categories