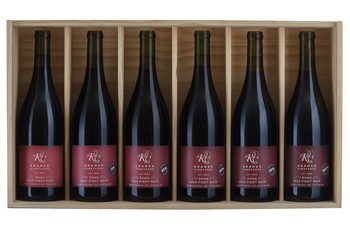 2015 Pinot Noir Whole Cluster Series
Kramer Vineyards is a multi-generational family-owned winery known for producing high-quality Pinot Noir and estate wines in the heart of Oregon's wine country.
Our curiosity about whole-cluster fermentation sets these wines apart. It's a technique that involves fermenting entire bunches of grapes, stems, and all. Bypassing the destemming process allows the fruit to stay intact longer, resulting in slower fermentations at lower temperatures. This shift in fermentation kinetics, along with the presence of the stem, impacts the aroma, flavor, and structure of the wine, creating a unique and complex flavor profile in each bottle.
In 2015, we conducted an experiment that created our 2015 Pinot Noir Whole Cluster Series. We harvested five tons of Pinot Noir from the same part of the vineyard and separated the fruit into five fermenters. We added a whole cluster layer in four of these vats, 25%, 50%, 75%, and 100%. The fifth bin was all destemmed. We proceeded with our typical fermentation management protocols, with pump-overs and punch-downs twice daily, and pressed at dryness. The wines were aged in neutral French oak barrels and bottled in winter of 2017.
Our limited-edition 2015 Pinot Noir Whole Cluster Series includes six exquisite wines featuring varying percentages of whole cluster fermentation, and the control wine is the 2015 Pinot Noir Yamhill-Carlton. Each bottle tells a unique story. The collection offers a rare opportunity to explore the impact of whole cluster fermentation on Pinot Noir from the same vineyard in the same vintage.
The results of our experiment are genuinely fascinating, and the wines have been aging under cork for several years, making their differences more pronounced than ever. Indulge in the complex and spicy notes of our 75% whole cluster fermented Pinot Noir, or enjoy the vibrant and fruity flavors of the 0% and 25% whole cluster bottlings.
Our 2015 whole cluster Pinot Noir collection includes one bottle of each experimental wine and the control wine, the 2015 Pinot Noir Yamhill-Carlton, for a total six bottles.