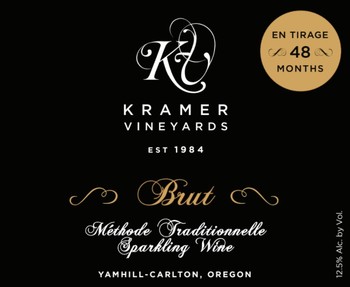 2016 Brut
48 months en tirage
Experience the exquisite craftsmanship of our 2016 Brut sparkling wine. Meticulously crafted from carefully selected Pinot Noir, Pinot Meunier, and Chardonnay grapes, this vintage sparkling wine has undergone an extensive aging process of 48 months, resulting in a refined and elegant flavor profile. Delicate notes of citrus and toasted brioche dance on the palate, accompanied by a vibrant effervescence that adds to its allure. Perfect for toasting special occasions or savoring moments of indulgence. Pair it with seafood, soft cheeses, or enjoy it alone. Elevate your celebration with our exceptional 2016 Brut 48 Months sparkling wine.
Wine Specs
Appellation
Yamhill-Carlton
Vineyard Designation
Estate
Aging
48 months en Tirage
Bottling Date
November 2017
Wine Profile
Tasting Notes
Indulge in the exquisite flavors of our 2016 Brut 48 Months sparkling wine. Pouring a radiant gold in the glass, it entices with enticing aromas of baked apple, poached pear, and a medley of tree and stone fruits. Delicate floral notes of hyacinth and hints of zesty orange peel add to its allure. At the same time, subtle nuances of flint, bananas, talc, and a touch of Red Hot candies provide a delightful complexity. On the palate, experience a harmonious blend of crisp apples, juicy pears, and a swirl of cinnamon and clove spices. Layers of lemon curd and a touch of caramel complete the symphony of flavors, leaving a lasting impression. Discover elegance in every sip of our meticulously crafted 2016 Brut sparkling wine.
Production Notes
Pinot Noir 50%, Chardonnay 31%, Pinot Meunier 19%
Winemaker Notes
The grapes were harvested by hand and whole cluster pressed. The juice settled overnight, then was racked to a stainless tank for cool fermentation. When fermentation was complete, the wine aged on the fine lees until bottling the following autumn. The wine was bottled under cap and aged in tirage bins until it was disgorged in November 2021 and finished with 5 g/L dosage.
Food Pairing Notes
Discover the versatility of our 2016 Brut 48 Months sparkling wine by exploring a range of delectable food pairings. Serve ice cold to enhance the delightful flavors while enjoying exquisite delicacies such as caviar and deviled eggs. For a playful twist, it complements the bold flavors of Chinese takeout or perfectly accompanies crispy fried foods. For a luxurious experience, savor it alongside succulent lobster or briny oysters. For a casual affair, elevate movie nights with the satisfying popcorn crunch. Its vibrant acidity and delicate effervescence beautifully complement the richness of smoked salmon, while its crispness enhances the flavors of sushi. Our 2016 Brut sparkling wine offers endless possibilities, ensuring a memorable culinary journey with every sip.