Classic Kramer Fondue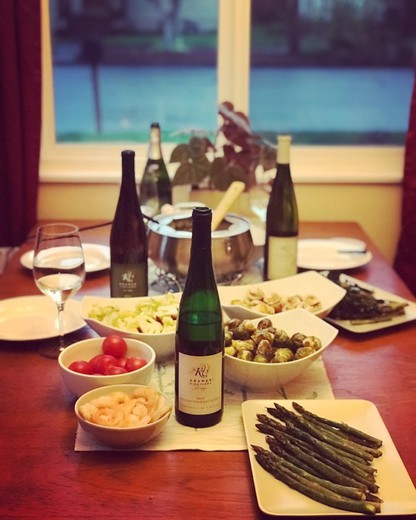 Recipe Date:
April 11, 2018
Measurements:
Imperial (US)
Ingredients
1 lb Alpine cheese: Raclette, Comté, and/or Gruyère, grated (about 5 cups)
1 tbsp cornstarch
1 clove garlic, minced
1 cup (or more) dry, white wine
Kosher salt and freshly ground black pepper
For dipping: potatoes, bread cubes, roasted vegetables (broccoli, cauliflower, asparagus, brussels sprouts), pear and/or apple slices, cooked shrimp, chicken, or beef
Directions
Toss the grated cheese with the cornstarch, set aside. In a fondue pot or double boiler over medium-high heat, add garlic and a splash of wine. Allow it to bubble and sear for about 30 seconds, then add remaining wine. When the wine begins to bubble, reduce to medium heat. Gradually add shredded cheese a handful at a time, stirring to melt each handful before adding the next. After all the cheese has been added and melted, reduce the temperature to low and enjoy!