Crab Bisque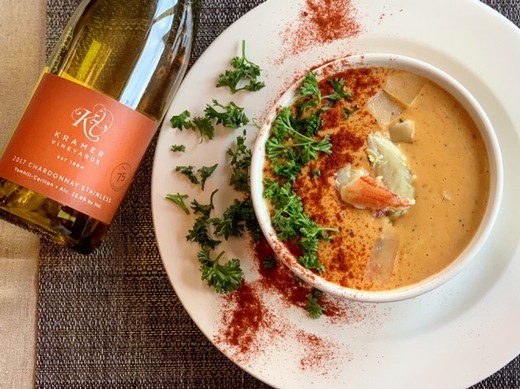 Recipe Date:
February 28, 2019
Measurements:
Imperial (US)
Ingredients
2 Dungeness Crab, cooked, cleaned, and picked (reserve shells for the broth)
4 cups vegetable stock
2 cups water
3 tbsps butter
1 1/2 cups celery stalks and greens, finely chopped
1 large onion, finely chopped
1 tbsp salt
1 tbsp pepper
2 tsps Old Bay Seasoning
5 cloves garlic, chopped
2 tbsps tomato paste
3 tbsps flour
1 1/2 cups dry white wine
2 bay leaves
1 1/2 cups cream
fresh chopped parsley, for garnish
Directions
Add the vegetable stock, water, and crab shells to a medium saucepan. Boil for about 20 minutes. If you have a carrot, celery stalk, and extra onion, add for additional flavor.
While the stock is boiling, melt the butter in a large pot over medium heat. Add celery and onion. Sautee until soft, about 5 minutes. Add salt, pepper, Old Bay, garlic, and tomato paste. Stir until the tomato paste has fully mixed with the vegetables. This step takes only a few minutes. Sprinkle the flour in the mixture and let cook for about 1 minute. Add wine to the mix and stir.
Next, strain the crab stock into the soup pot. PLEASE do this safely, as the stock will be very hot. I recommend a strainer that has small holes to catch small bits of shells. Stir the mixture and add the bay leaves. Let this simmer for about 30 minutes, then remove the bay leaves. Puree the mixture with an immersion blender or food processor. Reduce heat to medium-low, add cream and crab. Continue to stir until the soup is warm but not boiling. Garnish with fresh parsley and serve with lemon wedges. Pair with the Stainless Chardonnay, and enjoy!