Grilled Northwest Salmon with Wild Mushroom Medley and Pinot Noir Reduction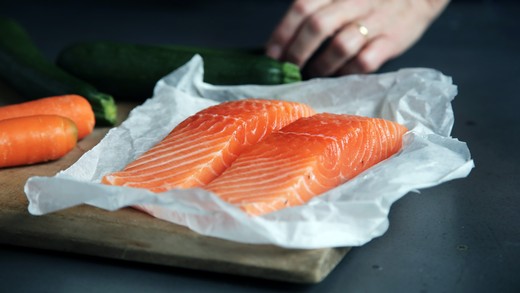 Recipe Date:
July 14, 2023
Measurements:
Imperial (US)
Indulge in the flavors of the Pacific Northwest with our exquisite Grilled Salmon with Wild Mushroom Medley recipe. This upscale dish combines the delicate richness of perfectly grilled salmon with a medley of locally foraged mushrooms, including cremini, chanterelle, morels, king boletes, and American matsutakes (depending on the season). The earthy and savory notes of these mushrooms beautifully complement the cherry fruit and light spice elements of Oregon Pinot Noir, creating a harmonious pairing that will tantalize your taste buds. With simple yet expert techniques, this recipe ensures that your salmon is perfectly cooked—moist and succulent. Serve this elegant dish with a drizzle of very good olive oil, crusty bread, and a vibrant salad for a truly unforgettable dining experience. Elevate your culinary repertoire and celebrate the flavors of the Pacific Northwest with this refined and effortless recipe.
Ingredients
4 High-quality Northwest salmon fillets
Flake salt and freshly ground pepper to taste
2 tbsps EVOO for cooking
8 ozs Good mushrooms (cremini, chanterelle, morels, king bolets, American matsutakes), cleaned and sliced
1 tbsp Real butter
2 Cloves garlic, minced
1/2 cup Oregon Pinot Noir (preferably one that's leftover or ordinary)
1/2 cup Broth, your choice (or add more wine)
2 tbsps Balsamic vinegar, for cooking
1 tbsp Oregon honey
fresh thyme leaves, for garnish
Directions
Preheat the grill to medium-high heat.
Season the Northwest salmon fillets with salt and pepper on both sides.
Drizzle extra-virgin olive oil over the salmon fillets and rub it in to coat evenly.
In a skillet, melt the unsalted butter over medium heat. Add the minced garlic and sauté until fragrant.
Add the wild mushroom medley to the skillet and cook until the mushrooms are tender and slightly browned.
Combine the Oregon Pinot Noir, chicken or vegetable broth, balsamic vinegar, and honey in a separate saucepan. Bring to a simmer over medium heat and cook until the liquid reduces by half and thickens into a glaze-like consistency.
Place the seasoned Northwest salmon fillets on the preheated grill and cook for about 2-3 minutes per side or until the salmon is cooked to medium doneness (this depends on thickness, grill heat, and when in doubt, err on the side of under. You can always refire, but overdone salmon is ghastly!
During the last few minutes of grilling, brush the salmon fillets with the Pinot Noir reduction sauce.
Remove the salmon from the grill and transfer to a serving platter.
Top the grilled salmon with the sautéed wild mushroom medley.
Drizzle any remaining Pinot Noir reduction over the salmon and mushrooms.
Garnish with fresh thyme leaves.
Serve the grilled Northwest salmon with a side of roasted potatoes and a mixed green salad for a complete and elegant meal.
This sophisticated dish highlights the bounty of the Northwest with a variety of wild mushrooms and pairs perfectly with a glass of Oregon Pinot Noir, enhancing the flavors and creating a memorable dining experience.