Müller-Thurgau Apple Crisp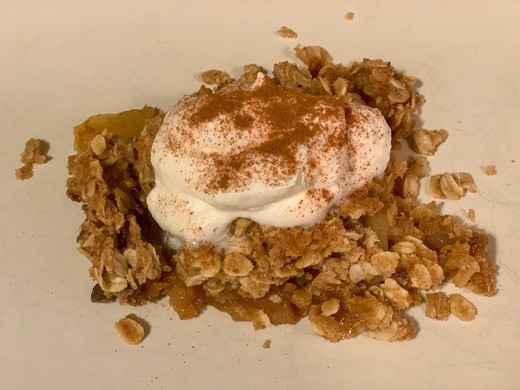 Recipe Date:
March 26, 2020
Measurements:
Imperial (US)
Ingredients
4 apples, peeled and thinly sliced
1/2 cup Müller-Thurgau or other aromatic white, like Riesling or Gewurztraminer
1/4 cup sugar
1/4 cup brown sugar
1 tbsp cinnamon
1 tsp nutmeg
Crisp Topping
1 cup flour
1/2 cup sugar
3/4 cup brown sugar
1/2 tsp pink Himalayan sea salt (or other fine salt)
1 1/2 cups rolled oats
2 sticks of butter
Directions
Preheat the oven to 350 degrees.
Peel and slice the apples thin. Place apples into a medium sized bowl. Add the Muller Thurgau, ¼ cup of sugar, ¼ cup of brown sugar, 1 tbsp Cinnamon and 1 tsp nutmeg. Mix the ingredients together and make sure to pour yourself a glass of Müller!
Topping
Mix all the crisp topping ingredients together, except the butter, in a large bowl. Once the dry ingredients are mixed, begin to mix in the butter into the dry ingredients small portions at a time.
Grease a 9x13 glass baking dish. Pour the apple mixture into the baking dish and make sure it is evenly spread across the bottom of the pan, including the liquid in the bottom of the bowl. Spoon the crisp topping over the apple mixture until it is all used and evenly spread over the apples.
Bake for 40-50 minutes or until you see the topping begin to crisp up and the edges bubbling.
Top with whip cream or ice cream and enjoy!
Suggested pairing: Sparkling Müller-Thurgau or Essence of Müller-Thurgau.