Pinot Noir Braised Oxtail Soup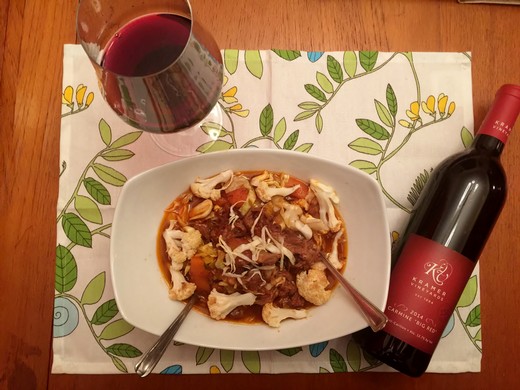 Recipe Date:
January 30, 2018
Measurements:
Imperial (US)
Ingredients
1 onion
5 cloves garlic
5 carrots
4 Roma tomatoes
4 lbs oxtail
1 cup water
1 1/2 cups dry red wine
1/3 cup Montreal steak seasoning
1 tbsp fresh parsley, finely chopped
5 beef bouillon cubes, crumbled
15 3/4 ozs can tomato sauce
1 tbsp butter
1/2 head of cabbage
Directions
Prep work!
I like to get all the prep work out of the way before I start to cook. Chop: Onion, garlic, carrots, tomatoes and cauliflower. Keep separate. Shred: Cabbage. Trim: Fat off the oxtail. I trimmed a little in the areas where there was more fat than others.
Now its time for the fun part!
Set the Instant Pot to the sauté setting on high heat. Add the 1 tbsp of butter and melt. While the butter is melting, cover each end of the oxtail in the Montreal steak seasoning. Once they are seasoned, dust the oxtail with the parsley flakes. When the Instant Pot is hot enough, I sear ALL edges of the oxtail till it is brown. Once the pieces are seared, use tongs to remove them from the pot and set aside. You will have to do this in batches. Pro tip- If things are beginning to stick to the bottom of the pot, use some red wine to deglaze the pan.
Once the searing is done, add another dash of red wine to the Instant Pot and add the garlic and onions. Sauté them until they are getting soft, less than 5 minutes. Next add the tomatoes, tomato sauce, crumbled bouillon cubes, water and mix the ingredients. Add the oxtails with a cup of red wine. Top the pot with carrots. Set on the pressure cook setting on high for 40 minutes. Allow the pressure to slow release once the time is up. You will know the soup is done once the oxtail meat falls off the bones. When the soup is ready, add the cabbage to the soup and mix it all together!
Roasting the cauliflower: This is a step I like to do when I have 30 mins to 45 mins before dinner is ready. Toss the cauliflower florets in some olive oil, salt and pepper. Spread out on a pan and roast at 350 degrees for 35-45 minutes.
Don't have an Instapot? No worries!

Crock-Pot alternative: Follow the instructions for the sauté steps, just use a pan! Once you finish sautéing the onions and garlic, transfer the ingredients to a crock pot. When all the ingredients are added, cook on low for 8 hours or high for 4-5 hours.
Serving: Place the roasted cauliflower at the bottom of the soup bowl and top with the oxtail soup. We suggest that this soup is served with Kramer Vineyards 2014 Carmine!