Summer Harvest Ratatouille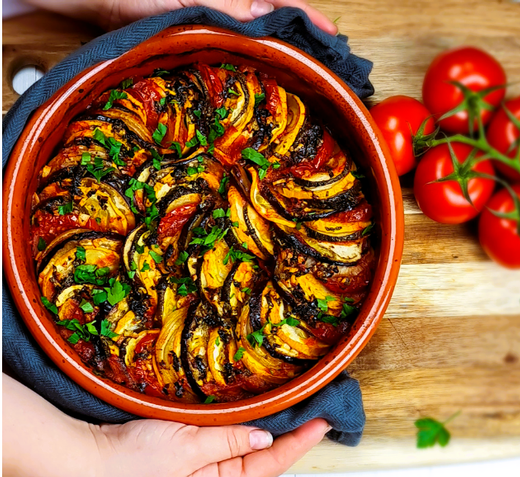 Recipe Date:
July 30, 2023
Measurements:
Imperial (US)
Embrace the flavors of the season with our delightful Summer Harvest Ratatouille—a celebration of the freshest vegetables in a symphony of colors and tastes. This rustic French dish perfectly complements the essence of harvest, and it's the ideal accompaniment to a chilled glass of Pinot Gris or Rosé of Pinot Noir. Gather your ingredients and immerse yourself in the culinary artistry of this classic recipe:
Ingredients
1 large eggplant, cubed
2 zucchinis, sliced
1 yellow squash, sliced
1 red bell pepper, sliced into strips
1 yellow bell pepper, sliced into strips
1 red onion, thinly sliced
1 garlic cloves, minced
4 cups fresh tomatoes, cut into bite-sized pieces
3 tbsps tomato paste
2 tbsps good olive oil
1 handful of fresh basil
1 tsp dried thyme, or a few sprigs of fresh
flake salt and freshly ground pepper, to taste
Directions
Heat the olive oil in a large pot or Dutch oven over medium heat. Sauté the chopped onion and minced garlic until fragrant and translucent.
Add the diced eggplant, zucchini, yellow squash, red and yellow bell peppers to the pot. Cook for 5-7 minutes, stirring occasionally, until the vegetables start to soften.
Stir in the diced fresh tomatoes, tomato paste, thyme, salt, and pepper. Mix everything together, allowing the flavors to meld.
Reduce the heat to low, cover the pot, and let the ratatouille simmer for 25-30 minutes or until the vegetables are tender but not mushy.
Once done, stir in the chopped fresh basil leaves. Taste and adjust the seasoning as desired.
Serve the Summer Harvest Ratatouille warm in a bowl garnished with extra fresh basil leaves. Enjoy it with a loaf of crusty bread and a chilled glass of our delightful Pinot Gris or Rosé of Pinot Noir to elevate the flavors of this seasonal delight.