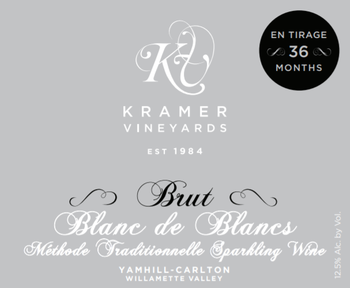 2016 Brut Blanc de Blancs
36 months en tirage
Discover our exquisite 2016 Blanc de Blancs sparkling wine, a harmonious blend of Chardonnay and Pinot Blanc grapes meticulously crafted at Kramer Vineyards. With its vibrant golden hue and refined effervescence, this Blanc de Blancs delights the senses with its crisp and elegant character.
Experience the allure of our 2016 Blanc de Blancs sparkling wine and elevate your moments of joy and celebration. Crafted with passion and expertise, it embodies Kramer Vineyards' commitment to producing exceptional wines representing our vineyard and the Yamhill-Carlton AVA. Savor the beauty of this remarkable blend, and let the enthusiasm of the 2016 Blanc de Blancs transport you to a world of elegance and delight.
Wine Specs
Appellation
Yamhill-Carlton
Aging
13 months in stainless; 36 months en tirage
Bottling Date
November 2017
Wine Profile
Tasting Notes
Indulge in the captivating aromas of our 2016 Blanc de Blancs sparkling wine. Delicate hints of citrus blossoms and green apples entice the senses, while subtle floral notes and fresh pear add a layer of complexity. Experience a symphony of flavors on the palate, where zesty lemon and juicy white peach take center stage. A touch of honeyed sweetness lingers, perfectly balanced by vibrant acidity and a creamy texture, leaving a lasting impression. This exceptional Blanc de Blancs is a unique blend of Chardonnay and Pinot Blanc, adding an intriguing twist to the classic style. Aged for 36 months before disgorging, this wine has developed remarkable brioche, almond, and honeycomb nuances, adding depth and richness to the vibrant fruit flavors. Tart apple and Asian pear notes further enhance the complexity, creating a truly remarkable sensory experience. Immerse yourself in the artistry of our 2016 Blanc de Blancs, where the marriage of Chardonnay and Pinot Blanc grapes harmoniously dances on the palate. Elevate your sparkling wine journey with this exquisite expression crafted with meticulous care and passion at Kramer Vineyards.
Production Notes
Chardonnay 60%, Pinot Blanc 40%
Winemaker Notes
The grapes were harvested by hand, sorted, and whole cluster pressed. The juice was settled overnight, and racked to stainless for primary fermentation. After fermentation was complete, the wine was racked off the heavy lees and aged until it was bottled under cap the following autumn. The wine aged in tirage bins for 36 months and disgorged in November 2020.
Food Pairing Notes
Indulge in a world of culinary delights with our 2016 Blanc de Blancs sparkling wine. This versatile and elegant wine is a perfect companion to various delectable dishes, enhancing every bite and sip. Elevate your tasting experience with these exquisite pairing suggestions: caviar, raw oysters, smoked fish, deviled eggs, chevre, sushi rolls with spicy mayo, or truffle-infused dishes. Immerse yourself in the beautiful synergy between our 2016 Blanc de Blancs and these exceptional food pairings. Let the culinary harmony unfold as you embark on a delightful gastronomic journey, celebrating the exquisite union of flavors and textures. Prepare to indulge in an unforgettable sensory experience that will leave a lasting impression.