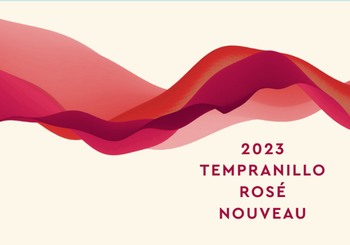 2023 Tempranillo Rosé Nouveau
Estate-Grown Tempranillo Rosé Nouveau
Experience the extraordinary with our Estate-Grown Tempranillo Rosé Nouveau. Crafted in the spirit of tradition, this wine is a rare gem in the heart of the Willamette Valley. Tempranillo, a varietal known for its versatility, takes on a vibrant, youthful character in this Nouveau-style rosé.
Hand-harvested from our meticulously tended vines, this limited-release wine embodies the essence of the harvest season. Its exuberant fruitiness and lively profile make it a delightful companion to any occasion.
Indulge in the novelty of this Nouveau Rosé—rare, estate-grown, and radiantly pink. Available starting Thursday, November 16.
Wine Specs
Appellation
Yamhill-Carlton
Harvest Date
October 13, 2023
Bottling Date
November 2023
Wine Profile
Tasting Notes
Behold our Nouveau Rosé of Tempranillo—a rare gem in the Willamette Valley. This exquisite rosé, crafted in the vibrant Nouveau style, boasts a captivating cotton candy pink hue, evoking the essence of summer. On the palate, it dances with the bright flavors of sun-ripened red berries—luscious strawberries and succulent raspberries. A delicate floral note reminiscent of rose petals adds an enchanting touch. Experience a subtle undercurrent of pink grapefruit intertwined with a gentle mineral quality that reflects the unique terroir of our estate vineyard. Light-bodied and refreshingly dry, this rosé is elevated by its crisp acidity, leaving a clean and lively finish. The Nouveau Rosé of Tempranillo is an ode to immediacy, meant to be savored now. Limited in production, this wine is a testament to our dedication to crafting exceptional, small-batch offerings. Embrace the rarity and enjoy the lingering fruitiness that defines this extraordinary Nouveau-style rosé.
Vineyard Notes
Estate grown
Winemaker Notes
The grapes were hand-harvested, sorted, and whole cluster pressed. The juice was racked to stainless to ferment and filtered before bottling.
Food Pairing Notes
Elevate your holiday celebrations with our Nouveau Rosé of Tempranillo, a wine that beautifully complements a range of festive dishes. Savor the vibrant notes of red berries and sweet flowers alongside cranberry and goat cheese stuffed chicken, or delight in the crisp acidity with grilled shrimp. Pair it with brie and fig crostini for an elegant touch, creating a harmonious blend of flavors. To round off your feast, indulge in a luscious lemon raspberry cheesecake, where the lively fruitiness of the wine dances in delightful harmony with zesty citrus notes. Make your holiday moments unforgettable with these exquisite pairings.