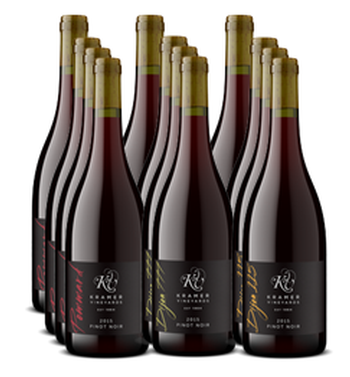 Case of Clones
Includes Shipping!
One aspect of understanding Pinot Noir is clonal selection. This unique set of single-clone Pinots explores this concept over four vintages, and includes some of the most widely planted clones in the Willamette Valley:
Dijon 115
Origin/Source: Morey St Denis (Cote d'Or)
Cluster: Small to average, spherical or short elliptical shape; colorful.
Profile: Medium to deeply red hued, with aromas and flavors of rose petal, red cherry, and black raspberry. Medium to full bodied, with soft tannins and balanced acidity.
First planted in 1992; component in our Rebecca's Reserve and Cardiac Hill Pinots.
Dijon 777
Also one of the numbered clones from the University in Dijon, Burgundy
Early ripening. Produces small clusters and berries. Wines have rich color and more tannins, with a very spicy profile.
First planted in 2001. Usually blended into the Estate Pinot Noir.
We like this clone! In 2019, we field grafted 0.6 acres of Muller-Thurgau over to 777, tripling our acreage.
Pommard
From Pommard, Burgundy
Medium-sized clusters, often with shoulders
Produces balanced, elegant wines suitable for aging
One of the first clones of Pinot Noir brought into the US
The first clone of Pinot Noir planted at Kramer Vineyards in 1984
Present in our Estate, Cardiac Hill, Rebecca's Reserve, and Heritage Pinot Noirs
Wädenswil
Burgundian in origin, this clone migrated to Switzerland, and is named after a municipality there. Commonly referred to as the Swiss clone of Pinot Noir.
Medium-sized clusters with narrow shoulders
A particular favorite clone of Yamhill-Carlton AVA growers
Produces floral Pinots with focused fruit and broad tannins