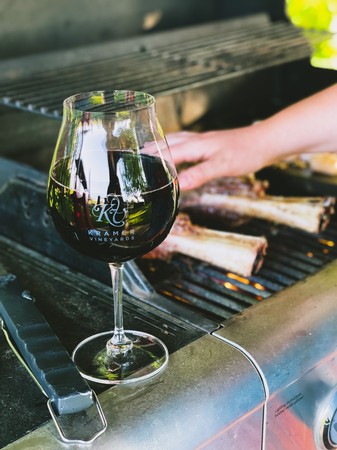 Grill & Chill
Includes Shipping!
The smoky flavors from the grill pair beautifully with peppery reds such as these. Serve the lighter 27 Blocks blend and the Pinot Noir with wings, ribs, or burgers, and the Carmine "Big Red" with steaks. This 6-pack of red wines includes two bottles each of the following wines:
27 Blocks - This unique red blend includes all nine grape varieties grown in our estate vineyard. Full of summer berries and spice, serve slightly chilled with anything grilled.
2017 Pinot Noir Estate - Our bestselling Pinot has generosity of fruit, with cherries, cranberries, and raspberries, with hints of oak and spice. Serve with grilled salmon, chicken, burgers with mushrooms, pork chops, hot dogs, or sausages.
2017 Carmine Big Red - Related to Cabernet Sauvignon and Merlot, Carmine has enough tannins to pair with grilled steaks, burgers with bacon and bleu cheese, or ribs.