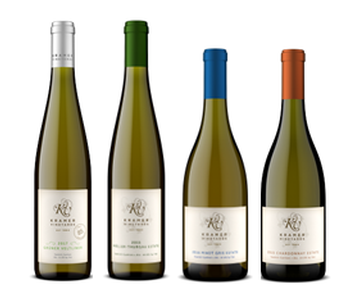 Estate Elegance: White Wines
A mixed case of our most popular white wines
Experience the epitome of sophistication with our Estate Elegance Whites Collection. This curated bundle showcases the best white wines crafted with precision and passion. Indulge in the delicate flavors and nuanced aromas that define the essence of our vineyard's terroir.
Every bottle tells a story of craftsmanship and dedication, from the rich and fruity 2018 Chardonnay Estate to the vibrant and crisp 2021 Pinot Gris Estate. Elevate your tasting journey with the following exquisite selection:
2018 Chardonnay Estate (3 bottles): A symphony of balanced oak and tropical fruit embodying the essence of our estate vineyard.
2020 Müller-Thurgau Estate (3 bottles): An aromatic delight with floral notes and a refreshing palate.
2021 Pinot Gris Estate (3 bottles): Crisp and lively, perfectly expressing our vineyard's unique character.
2022 Grüner Veltliner (3 bottles): Intriguing and distinctive, a white wine enthusiast's delight.
Limited availability; secure your Estate Elegance Whites Collection today!