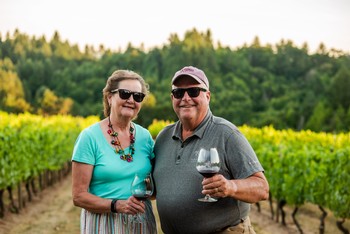 Founders Favorites
Shipping Included
This collection of six wines includes tried-and-true classics that put our vineyard on the map: Pinot Noir, Chardonnay, and Pinot Gris.
2018 Pinot Gris Estate: Our vineyard's unique microclimate, geology, and topography offer ideal conditions for producing world-class Pinot Gris grapes. The 2018 vintage is especially stunning, with lively, fruit-forward character, flavors of citrus and tree fruits, crisp, clean acidity, and stony minerality. We're looking forward to enjoying this wine with some fresh seafood from the Oregon coast. When it comes to pairing, remember: Pinot Gris and things from the sea were meant to be!
2018 Chardonnay Estate: This is a classic example of Chardonnay from our vineyard. Sourced from our first planting of Dijon clones in the early 90s, this hillside of red and gold clay soils produces small, flavorful clusters. Harvested in late September, the juice was fermented in eight barrels: 25% new French oak for structure, 50% neutral oak for volume, and 25% stainless for freshness. Each barrel imparts a unique flavor profile, for a complete, layered wine with stunning fruit, brightness, elegance, and depth. Serve at cellar temperature with roasted chicken, roasted halibut, grilled salmon, scallops, pasta with white truffles, or a toasted baguette with Brie.
2019 Müller-Thurgau Estate: In the early 1980s, owner Keith Kramer took a vineyard management class with a fellow who was especially excited about Müller-Thurgau for Oregon. "He wouldn't shut up about it, so we bought some when we had the opportunity in the mid-80s," he says. The wine was a hit, so vines at our estate soon followed. We've found it to be very productive at our site, yielding flavorful fruit even in the most challenging vintages. We've made wines in a range of styles from dry to off-dry, semi-sweet to dessert, and even sparkling. Both the sparkling and still wines have become quite popular and are usually the top sellers in the tasting room. In 2018, Wine Enthusiast recognized us as a "Notable Müller-Thurgau Producer in the US." The 2019 release is full of fruity and floral aromas, with lychee, gardenia, passionfruit, pear, honey, and kiwi. Light and refreshing on the palate, with a perfect balance of bright acidity, round mouthfeel, and a touch of sweetness. The aromas follow through in the mouth, with guava, mango, green apple, pineapple, and lime, and a long finish.
2018 Pinot Noir Estate: The 2018 harvest was a dream, beginning with early budbreak and bloom, a comfortably warm spring, and sunny summer days followed by pleasantly cool nights. The stellar prospect of the vintage was heightened by cool and crisp fall weather ushered in by coastal and ridge-top breezes with minimal rain. The harvested fruit had rich flavors and structure, combined with a lift of gentle acidity. This wine is downright delicious right now but has all the qualities for cellaring. The 2018 vintage is truly textbook perfect from our vantage point—and worthy of all the hype. Powerful aromas and intense flavors of cherries, cran/raspberry, tart cherries, hints of anise, vanilla, and notes of black pepper punctate throughout.
2018 Pinot Noir Heritage: Sourced from our original planting of Pinot Noir in 1984, the Pinots from this block tend to be among our most structured and age-worthy. Harvested on October 6, we fermented a portion of the fruit in an insulated vat to emphasize the extraction from the skins. This is the fermentation equivalent of a down blanket, prolonging the cold soak, and trapping the heat once fermentation begins. This portion was blended with a whole cluster ferment, averaging 40% of the total. Find aromas of rose petals, tobacco, and earth. The palate is full of dark berry fruitiness, with a spicy, grippy finish that speaks to this wine's longevity.
2018 Carmine: Carmine was developed in 1946 at UC Davis by Dr. Harold Olmo. This cross of Cabernet Sauvignon, Carignan, and Merlot was developed to grow in the cooler, coastal regions of California. Olmo's vision never caught on as intended, and in the 1970s, these vines traveled north to Courting Hill Vineyard in Banks, Oregon. The vineyard owner, and Oregon wine legend Jim Leyden, introduced Keith Kramer to this grape variety, gifting him our first Carmine vines in 1989. Our plantings have grown to just over an acre, and it's been reported that we're the largest producer of this wine in the United States. This release is a dark ruby red wine with earthy, fruity, and spicy aromas of dried cranberries, maraschino cherries, cinnamon, and anise. On the palate, the youthful tannins and medium body reveal more cranberry, plum, and bell pepper, with chocolate and cracked peppercorn notes in the very long finish.