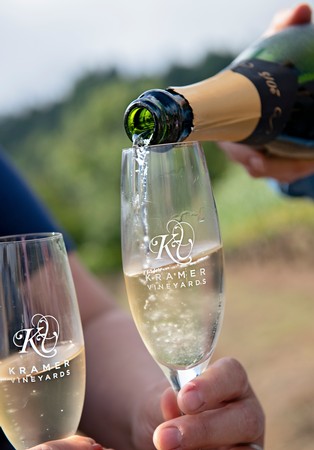 Happy New Year 4-pack
Includes Shipping!
This box includes one bottle each of the following wines:
Best with NYE party snacks: 2016 Brut Blanc de Blancs
This lemony-apple sparkling wine shines when served with finger foods: deviled eggs, caviar, smoked fish, oysters, buttery popcorn, or potato chips.

Best for midnight toasting: 2017 Brut
Elegant and balanced, this blend of estate grown Chardonnay, Pinot Noir and Pinot Meunier has a honeyed citrus profile, punctuated by pear and apple accents; an excellent way to ring in the new year.

Best for New Year's Day Brunch: Celebrate Müller-Thurgau
Tropical and floral, enjoy our bestselling sparkling wine with French toast, pancakes, waffles, or crepes. If you go the mimosa route, try a splash of mango or pineapple juice.

Best for writing resolutions: NV Brut Rosé
Start 2022 with rosé-colored glasses! This delicately pink bubbly has flavors of strawberries, citrus, and peaches and cream, with just the right amount of motivating spark for aiming high.