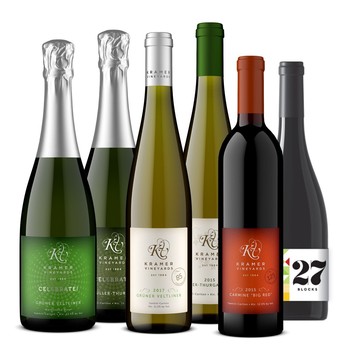 Kramer Vineyards Exclusives
Includes Shipping!
This collection of six wines are made from unique, cool climate varieties grown at our estate vineyard: Grüner Veltliner, Müller-Thurgau and Carmine. Although these wines aren't as well known as Pinot Noir, they are among our bestsellers year after year.
2019 Celebrate Grüner Veltliner: one of the few sparkling wines made from Grüner Veltliner in the US! Fresh aromas of lemon, lime, cucumber, peach, with a hints of flowers and freshly cut grass. The cucumber and peach continues on the palate, with green apple, pear, a very light, crisp body and finish.
NV Celebrate Müller-Thurgau: our bestselling sparkling wine is also a rarity. Delicate, subtly aromatic nose with fruity and floral undertones. Smooth, fresh and elegant on the palate with flavors of lime, green apple, passion fruit, white peach, and a hint of grass and stony minerality.
2018 Grüner Veltliner: Our bubble-free version shifts the expression of the grape to fresh, citrusy aromas of lemon, lime, and cucumber, with accents of peach, white flowers and freshly cut grass. On the palate, this wine is dry, with a lovely medium-light weight and acidity that manages to be both bright and round. Flavors of peach, green apple, pear, and a long finish.
2019 Müller-Thurgau Estate: Crystal clear in the glass, with a pale gold tinge. Fruity/floral aromas, with lychee, gardenia, passionfruit, pear, honey, kiwi, and sweet basil. Light and refreshing on the palate, with a perfect balance of bright acidity, round mouthfeel, and touch of sweetness. The aromas follow through in the mouth, with guava, mango, green apple, pineapple, and lime, with basil emerging in the very long finish.
2017 Carmine Big Red: This cross of Cabernet Sauvignon, Carignan, and Merlot with a loyal following in our tasting room. This dark ruby red wine is brimming with earthy, fruity, and spicy aromas of dried cranberries, maraschino cherries, cinnamon, and anise. On the palate, the youthful tannins and medium body reveal more cranberry, bell pepper, and cracked peppercorns with a very long finish.
27 Blocks: Named after the number of blocks in our estate vineyard, this wine is a red coferment sourced from all over our property, and includes all nine grape varieties we grow. Very expressive aromatics of razzleberry and cinnamon. Nice and round on the palate, with flavors of mixed berry compote and cola. Balanced acidity, and a nice long finish with very light tannins.