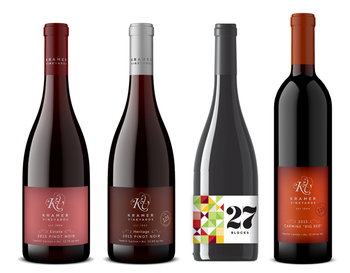 Red Wine Showcase
A mixed case of customer-favorite red wines
Embark on a captivating journey through the Vineyard Reds Showcase, where passion meets perfection in every bottle. This curated collection brings together the bold and expressive character of our most distinguished red wines.
Savor the richness of the vineyard with this selection of red wonders:
2018 Pinot Noir Estate (3 bottles): A classic expression of our terroir, with silky tannins and vibrant red fruit.
2017 Carmine (3 bottles): Intense and robust, a wine that commands attention with its deep, dark allure.
2018 Pinot Noir Heritage Block (3 bottles): A testament to heritage vines, delivering complexity and depth.
27 Blocks (2021 vintage, 3 bottles): A blend of perfection, capturing the essence of our diverse vineyard blocks.
Whether you're a connoisseur or a red wine enthusiast, the Vineyard Reds Showcase promises an unforgettable exploration of flavors and a celebration of the bold spirit within each glass.