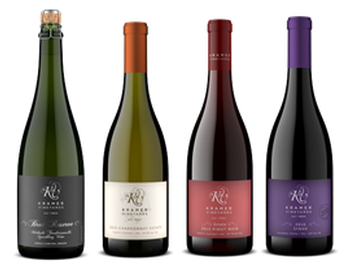 The Care Package
Includes Shipping!
If you're looking to send a thoughtful gift or need a bit of self-care, this box includes a selection of tasting room favorites. This selection of classic Willamette Valley wines have familiar, comforting flavor profiles and pair beautifully with wintery dishes. Our fresh, onsite roasted coffee is a nice bonus.
Brut Reserve: a lush cuvée of Chardonnay and Pinot Noir with notes of brioche, Japanese pear, and marzipan. Serve with buttery popcorn, soft cheeses, charcuterie, scrambled eggs, or Chinese take-out.
2017 Chardonnay Estate: a traditional Oregon Chardonnay with the perfect balance of fruit and fullness. Medium-bodied, with flavors of peach, pineapple, honey, and chamomile; hints of nutmeg and vanilla. Excellent with roasted chicken, pasta with a cream sauce (or macaroni and cheese), white fish, or smoked salmon.
2017 Pinot Noir Estate: beef bourguignon or coq au vin, pasta with mushrooms, roasted pork loin, or salmon in a pepper crust.
2016 Syrah: Powerful and spicy, with blackberries, blueberries, black pepper, and allspice. Pair with braised spareribs, aged cheeses, lamb burgers, Osso Bucco, or pizza.
1-lb whole bean coffee: enjoy our onsite roasted coffee with breakfast or dessert.