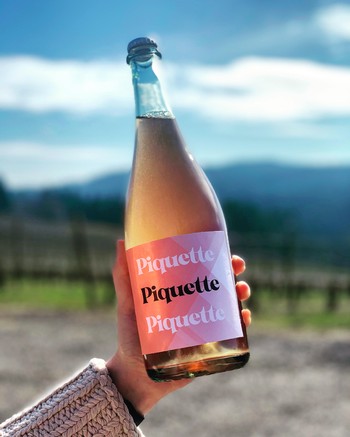 Piquette
Piquette is a lower-alcohol, lightly sparkling drink made from the pressed grape pomace that remains after the juice has been extracted for traditional wine. This ancient practice was once used to create a rustic, farmhouse-style libation that winemakers traditionally made for their consumption. Recently, it has become more popular with producers as a sustainable and eco-friendly way to use grape waste and create a refreshing, low-alcohol beverage with a unique flavor profile. At Kramer Vineyards, we've embraced this age-old practice to upcycle our grape waste and create a unique and refreshing fizzy drink.
For more on Piquette, check out "Is lower-alcohol piquette Oregon's next big wine craze?"
Wine Specs
Appellation
Yamhill-Carlton
Vineyard Designation
Estate
Bottling Date
August 2021
Wine Profile
Tasting Notes
Our Piquette is a light and refreshing wine with pleasing tartness and fine, plentiful bubbles. On the palate, flavors of pomegranate, cran-raspberry, rhubarb, and tart apple are balanced by subtle hints of earth and spice.
Winemaker Notes
To make our Piquette, we used the pressings from our Müller-Thurgau grapes. The pomace was rehydrated with well water, then steeped for four days before being pressed again, along with marc from a red fermentation, to give the liquid a rosy hue. The must was fermented in stainless steel, and hard press Pinot Gris was blended in for balance. The wine was bottled in August 2021 to finish fermentation under a crown cap, creating a gentle sparkle.
Food Pairing Notes
Piquette is a versatile and refreshing drink that can be enjoyed on its own or mixed into cocktails. For a refreshing twist, try adding it to your favorite spritzer or sangria recipe. Serve Piquette chilled on a hot summer day while relaxing on the patio or by the pool, or pair it with a variety of light, summery foods like seafood, salads, grilled veggies, or light appetizers. With its low alcohol content, Piquette is perfect for daytime events and as a lighter alternative to wine. Take a bottle of Piquette along on your next picnic or outdoor adventure for a refreshing and easy-drinking option. Serve it as a welcome drink at your next gathering or add it to your cocktail menu for a unique and unexpected touch. And for a true taste of the vineyard life, enjoy Piquette as a refreshing pick-me-up during a long day of hard work or the busy harvest season.