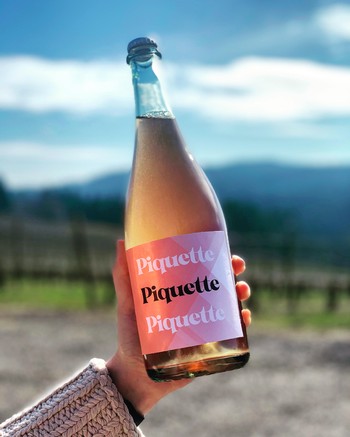 Piquette
Piquette might be as old as wine itself. The earliest stories are of Iora, an ancient Greek or Roman drink made from wine grape pressings that were rehydrated, pressed, fermented, and diluted further. Another story is that French vineyard workers were served a version of Piquette at lunch, so as not to interfere with their afternoon productivity.
For more on Piquette, check out "Is lower-alcohol piquette Oregon's next big wine craze?"
Wine Specs
Appellation
Yamhill-Carlton
Vineyard Designation
Estate
Bottling Date
August 2021
Wine Profile
Tasting Notes
Light, refreshing, and pleasingly tart, with fine, plentiful bubbles. Flavors of pomegranate, cran-raspberry, rhubarb, and tart apple.
Winemaker Notes
To make the Piquette, Kramer upcycled the pressings of their Müller-Thurgau grapes. The skins and pulp were reserved and rehydrated with well water, allowing the release of sugars and flavors. After steeping for four days, the grapes were pressed again, along with marc from a red ferment, giving the liquid a rosy glow. The must fermented in stainless, and hard press Pinot Gris was blended in for balance. The Piquette was bottled in August 2021, finishing fermentation under a crown cap to create a gentle sparkle.