March 9, 2020 | Sparkling Wines, Winemaking | Kramer Vineyards
Meet Piquette: Wine Just Got Cooler
Oregon sparkling wine house modernizes the ancient spritzer
Piquette is a refreshing vinous drink with lower alcohol; fizzy and tart, with pure effervescence and natural fruit flavors, it's the perfect alternative for a balanced lifestyle.
This spring, Kramer Vineyards launches Piquette, a nearly forgotten old-world beverage made from grape pressings and water. Known for its innovative sparkling wine program with offerings including sparkling Grüner Veltliner, Kramer saw an opportunity to offer something different.
Piquette might be as old as wine itself. The earliest stories are of Iora, an ancient Greek or Roman drink made from wine grape pressings that were rehydrated, pressed, fermented, and diluted further. Another story is that French vineyard workers were served a version of Piquette at lunch, so as not to interfere with their afternoon productivity.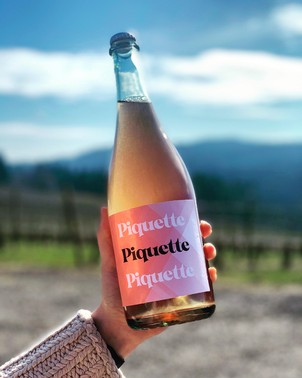 "I saw a creative challenge in capturing so many trends with Piquette. It is the intersection of rosé, sparkling, low sugar, lower alcohol, single serving packaging—and it's adjacent to the cider, craft beer, and hard seltzer categories." said second generation winemaker, Kim Kramer.
Kramer was inspired to revive this beverage of the farm hand during the harvest of 2019. To make the Piquette, Kramer upcycled the pressings of their Müller-Thurgau grapes. The skins and pulp were reserved and rehydrated with well water, allowing the release of sugars and flavors. After steeping for four days, the grapes were pressed again, along with marc from a red ferment, giving the liquid a rosy glow. The must fermented in stainless, and was bottled November 2019, finishing fermentation under a crown cap to create the gentle sparkle. Fermented dry with just 7.5% alcohol, this crisp, easy-to-drink refresher pairs well with just about every sunny occasion.
Kramer Vineyards Piquette will be released on March 19, 2020.
Kramer Vineyards is a family owned and operated winery, now in its second generation. For 36 years, they have been growing grapes at their sustainably farmed vineyard in the Yamhill-Carlton AVA. Kramer specializes in producing cool climate white, red, and sparkling wines at their property in Gaston, 30 miles west of Portland.