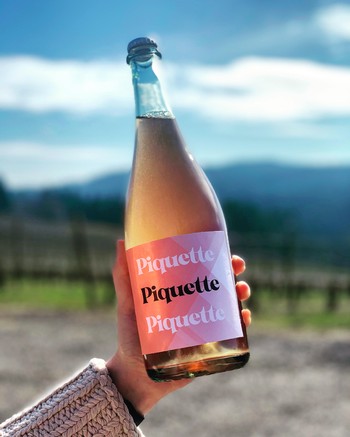 Piquette
Piquette is an ancient beverage crafted by repurposing grape pomace, skins, and seeds after traditional winemaking. Discover this sustainable and eco-friendly drink that captures the essence of resourcefulness and offers a unique flavor profile.
Piquette at Kramer Vineyards
At Kramer Vineyards, we embrace this tradition by upcycling grape pressings to create our special fizzy drink. Experience our Piquette, a refreshing alternative with lower alcohol content and light, sparkling nature perfect for various occasions.
Crafting Piquette
Our Piquette is carefully crafted from Müller-Thurgau grape pomace. After rehydration and steeping in water, the pomace undergoes a second pressing, accompanied by marc from red fermentation, lending a delicate rosy hue. The must is then fermented in stainless steel, creating a harmonious balance.
Enjoying Piquette
Savor the delightful flavors of our Piquette with its fine and plentiful bubble structure. Experience the vibrant notes of pomegranate, cran-raspberry, rhubarb, and tart apple, perfectly balanced by hints of earth and spice. Whether it's a hot summer day, a picnic, or a refreshing pick-me-up during the harvest season, Piquette is the versatile drink that complements any occasion.
Piquette shines in cocktails, adding a unique twist to spritzers or sangria. Pair it with seafood, salads, grilled veggies, or light appetizers. Its lower alcohol content makes it ideal for daytime events. Celebrate sustainability and flavor with Piquette, a revitalized ancient libation.
For more on Piquette, check out the following articles:
"Is lower-alcohol Piquette Oregon's next big wine craze?"
"Meet Piquette: Wine Just Got Cooler"
"Meet Piquette, Natural Wine's New Favorite Bubbly"
"A Bet on Piquette"

Wine Specs
Appellation
Yamhill-Carlton
Vineyard Designation
Estate
Bottling Date
August 2021
Wine Profile
Tasting Notes
Our Piquette is a light, refreshing wine with pleasing tartness and plentiful bubbles. Enjoy pomegranate flavors, cran-raspberry, rhubarb, and tart apple, balanced by subtle hints of earth and spice.
Winemaker Notes
o make our Piquette, we used the pressings from our Müller-Thurgau grapes. The pomace was rehydrated with well water, then steeped for four days before being pressed again, along with marc from a red fermentation, to give the liquid a rosy hue. The must was fermented in stainless steel, and hard press Pinot Gris was blended in for balance. The wine was bottled in August 2021 to finish fermentation under a crown cap, creating a gentle sparkle.
Food Pairing Notes
Piquette is a versatile and refreshing drink that can be enjoyed on its own or mixed into cocktails. Try it in spritzers or sangria recipes. Serve chilled on hot summer days with seafood, salads, grilled veggies, or light appetizers. It's perfect for daytime events and as a lighter alternative to wine. Take a bottle on your next picnic or outdoor adventure. Add it to your cocktail menu for a unique touch. Enjoy it as a refreshing pick-me-up during the busy harvest season.