December 19, 2017 | Sparkling Wines | Kimberley Kramer
Vintage vs Nonvintage in Sparkling Wines
Vintage describes the year of the grape harvest, and in the US, wines with a vintage year on the label indicate that 95% of the grapes were from that year. By contrast, nonvintage wines are blends of wines from grapes that were harvested from two or more years. Seventy to eighty percent of Champagne is nonvintage, with blending specialists carefully combining dozens, sometimes hundreds, of base wines together to reflect a house style, the signature of the producer. Vintage wines are rarer, and it is common for a sparkling house to produce vintage wines in years that are deemed to be of superior quality.
Our goals with the sparkling wines are different than that of many large sparkling houses. The two nonvintage wines we produce are estate grown, and therefore have site expression. The composition of the nonvintage wines are as follows:








In addition to these details, one distinguishing feature of note is that the base wines for the Brut Reserve were fermented and aged in neutral French oak barrels. This treatment of the base wine results in more richness, palate weight, and structure than in stainless.
So, while these nonvintage wines are wines of place, the 2015 vintage Brut is a wine of both place and time. 2015 was warm and early, with higher than average yields. The fruit was remarkably balanced however, with excellent structure. What distinguishes this vintage for the Brut especially is the amount of Pinot Meunier in the blend, 22 percent, up from just 15 percent in 2014. We are still learning what the Pinot Meunier contributes to the wine, but one of the early observations is the enhanced midpalate presence and fruity aromas. The fruit for this wine is sourced from blocks dedicated to our sparkling program, and the blend is determined by the yields at harvest.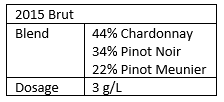 With base wines of different vintages, blends, and dosage, these wines seem quite different. But, how does this translate in the glass? Early observations are that the nonvintage wines boast a finer, more delicate mousse, with pronounced yeastiness and an increased emphasis on tree fruit flavors. By contrast, the vintage wines are incredibly fresh and light, with a fine, yet plentiful bead, showing much more minerality and citrus notes. The tone and texture of these young wines will change as they evolve in the bottle, and it is always exciting to track their progress.