Noble varieties make up the majority of the vineyard acreage in the Willamette Valley, but new and emerging grapes are also part of our story.
The Willamette Valley is world famous for Pinot Noir, Pinot Gris, and Chardonnay, but this region is more rich, diverse, and complex than any one variety. Pinot Noir is righfully our signature grape, but there's much left to explore.

When we started our vineyard in 1984, we planted Pinot Noir, Chardonnay, and Riesling. As we matured as winegrowers, we wondered about the potential of other cool climate varieties. Our curiosity is what led us to plant the relatively unknown Müller-Thurgau. That endeavor has been wildly successful, inspiring us to grow our collection of esoteric grapes to include Carmine, Grüner Veltliner, Marquette, and Pinot Meunier.
Müller-Thurgau, planted in 1986; 2.25 acres
In the early 1980s, owner Keith Kramer took a vineyard management class with a fellow who was especially excited about Müller-Thurgau for Oregon. "He wouldn't shut up about it, so we bought some when we had the opportunity in the mid-80s," he says. The wine was a hit, so vines at our estate soon followed. We've found it to be very productive at our site, yielding flavorful fruit even in the most challenging vintages. We've made wines in a range of styles from dry to off-dry, semi-sweet to dessert, even sparkling. Both the sparkling and still wines have become quite popular and are usually the top sellers in the tasting room. In 2018, Wine Enthusiast recognized us as a Notable Müller-Thurgau Producer in the US.
Flavor profile: Peach, starfruit, lychee, passionfruit, mango, lime, gooseberry, and sweet basil.
Current releases: 2018 Celebrate Sparkling Müller-Thurgau, 2018 Müller-Thurgau Estate.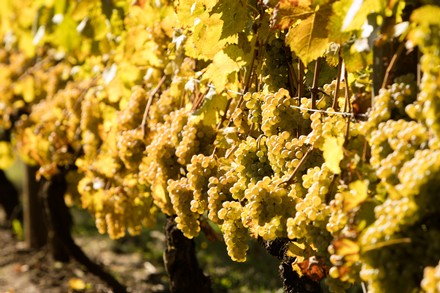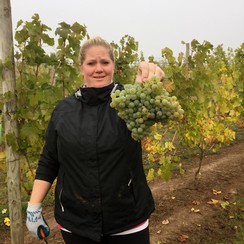 Grüner Veltliner, planted in 2010; 0.5 acres
We planted Grüner Veltliner with the intention of making a crisp, dry, and expressive white wine. The signature white grape of Austria, Grüner is famous for its peach and white pepper notes, and great versatility for pairing with food. Early harvests yielded fruit with high acidity that made more sense for our sparkling program. Starting in 2017, we began to divide the harvests between the cooler east side for sparkling, and the warmer west side for a still wine. Fun fact: Grüner Veltliner produces clusters that are ten times the size of Pinot Noir!
Flavor profile: Lemon, lime, cucumber, peach, white flowers, freshly cut grass, green apple, and pear.
Current releases: 2018 Celebrate Sparkling Grüner Veltliner, 2018 Grüner Veltliner Estate
Carmine, planted in 1989; 1 acre
Carmine was created in 1946 at UC Davis by Dr. Harold Olmo. This cross of Cabernet Sauvignon, Carignan, and Merlot was developed to grow in the cooler, coastal regions of California. Olmo's vision never caught on as intended, and in the 1970s, these vines traveled north to Courting Hill Vineyard in Banks, Oregon. The vineyard owner, and Oregon wine legend Jim Leyden, introduced Keith Kramer to this grape variety, gifting him our first Carmine vines in 1989. We've learned much about this late ripening, thick-skinned grape, both in the vineyard and the winery. Our Carmine wines are dark red in color, and typically have herbaceous aromas and peppery notes. It has inherited a lot of flavors from its Cabernet Sauvignon grandparent, principally dark fruit, dark chocolate and the occasional hint of mint.
Flavor profile: Dried cranberries, maraschino cherries, cinnamon, anise, bell pepper, and cracked peppercorns.
Current release: 2015 Carmine 'Big Red'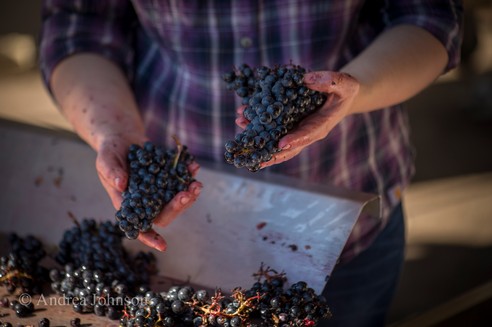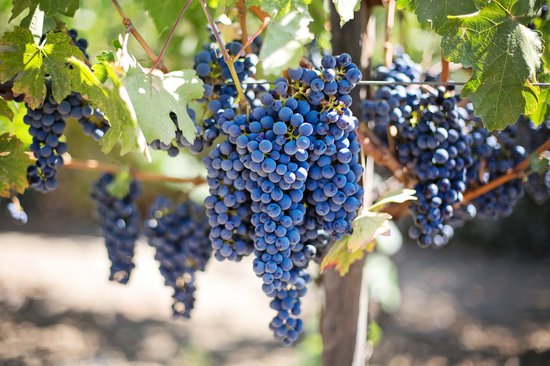 Marquette, planted in 2010; 0.5 acres
Developed by the University of Minnesota in 2006 for extremely cold climates, Marquette is a complex hybrid. What caught our attention is that Pinot Noir is on the family tree. It took seven years for any wine to come from this effort, as the cool Willamette Valley is too warm for Marquette. The plants are several weeks ahead of everything else in our vineyard, resulting in some unique challenges, from inclement weather during critical growth periods, to early ripening (for more on this subject, see 27 Blocks: Harvest in a Bottle). To balance out Marquette's big personality, we coferment it with grapes sourced throughout our estate vineyard.
Flavor profile: Cherries, blackcurrants and blackberries, tobacco, leather
Current release: 27 Blocks