December 28, 2017 | Harvest 2017, Sparkling Wines | Kramer Vineyards
A Big One for Sparkling Wines
Kramer Vineyards harvest larger than ever before
Kramer Vineyards celebrates its largest harvest in 30 years with a record-breaking offering of sparkling wine. Winemaker Kim Kramer's passion for sparkling wines, known for their precision, brings delight to wine lovers. To further celebrate, the family-owned winery will offer 14 sparkling wine releases.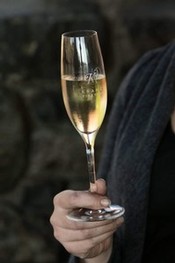 "We've always loved sparkling wines. They are extremely challenging to make because they're wines of such precision," said Winemaker Kim Kramer, who's been producing sparkling wines since the early 2000s. "It's rewarding to see the delight these wines bring to people's faces and to see them return for more."
Dedicated to sharing the delight of its fizzy wines while quenching the thirst of a growing sparkling wine demographic, Kramer started its own sparkling wine club.
Kramer Vineyards is releasing a new collection of traditional method sparkling wines from its estate vineyard in the Yamhill-Carlton AVA to celebrate the bounty of the harvest. These wines are all bottle fermented and composed of Pinot Noir, Chardonnay, and/or Pinot Meunier. This traditional sparkling collection includes vintage and nonvintage Brut, NV Brut Reserve, NV Brut Blanc de Blancs, NV Brut Blanc de Noirs, and NV Brut Rose. Kramer has been experimenting with extended tirage sparkling wines, so expect to see those releases.
If you want more information about this topic, please get in touch with Kim Kramer at (503) 662-4545 or email at kim@kramervineyards.com.