March 1, 2018 | Kramer Vineyards
Interview With Trudy Kramer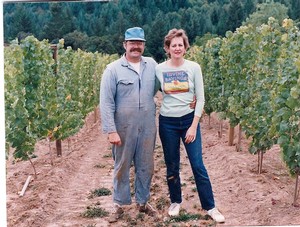 KV: How did you get in to wine?
Trudy: I bought a winemaking book in 1970. I thought it might be fun, and it looked really interesting, because you could make wine from lots of things, not just wine grapes. It was winter, and there were oranges in the grocery store for a very reasonable price, so I decided to go ahead and give it a try. One gallon!
KV: Was it any good?
Trudy: It was very good! I was kind of surprised.
KV: What was the moment you knew you wanted to be a winemaker?
Trudy: Fast forward ten years, it was 1980, and I was taking a Wines of the World appreciation class from Matt Kramer in Portland. And he had a Burgundy night. The wines actually came from his cellar, and the last one of the night was a fantastic red Burgundy that made me stop and think, wow, we should be able to make something this good in Oregon. I hadn't tasted that many Burgundies before, and this one stopped me in my tracks. I was in total awe of that wine.
KV: Do you know what wine it was?
Trudy: I think it was a DRC, but I don't remember the vintage.
KV: How did you come to find the property that would be the future Kramer Vineyards?
Trudy: We came into Forest Grove, and went into a small realtor and he knew of a property for sale on Olson Road that might work. We looked at other properties, and realized we wanted to start from scratch. The Gaston property made sense because there was so much open land, and we could basically mow and plant right away. Also, Elk Cove was right down the road, and we like their wines, and the aspect of the land was right. Plus all these things were happening that was very encouraging around the time we bought the property in 1983. The first Oregon Winegrape Growers guide came out, and then there was the Cool Climate Viticulture Seminar in Eugene in 1984. There was just a lot of great energy about the Oregon wine industry at that time.

KV: Did you have a mentor in the business, or were you on your own?
Trudy: I think we were pretty much on our own, but we definitely took advice from others in the industy. Jim Leyden of Courting Hill Vineyard was very encouraging on the vineyard side of things. Of course, Rich Cushman. I took a winemaking class from him at Clackamas Community College in 1984.

KV: What highlights or challenges during those first few years have had a lasting impact?
Trudy: Well, the first time we ever received grapes. We got our license to process grapes at 1pm and were sorting by 5pm. And then we realized we didn't know how to operate the press. The directions said to use water, but our water pressure wasn't high enough. So we eventually decided to use an air compressor, which was much more effective. And that was really the start of our problem-solving, which is essential for this business. It's always an adventure trying to figure out how to make the equipment work right.
At that time, the standard was to buy land, plant grapes, and make wine there. There were a whole lot less wineries, of course. The growth we've seen in the number of wineries and in wine retail has been phenomenal. That model has changed a great deal. There's a lot more options now for people who want to make wine.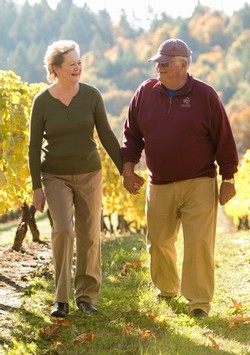 KV: What advice would you give to women who want to pursue a career in wine?
Trudy: Go for it! There are a lot of women in the wine business in Oregon at all levels. There's a lot of opportunity here. Don't be intimidated.

KV: If you could drink any wine in the world, what would it be?
Trudy: Oh that's a toughie. I guess I'd have to go back to Burgundy and drink more DRC.