January 16, 2018 | Kimberley Kramer
Game of Clones: Pinot Noir
I never really gave clonal choice too much thought until recently. As a second generation winemaker with an established vineyard, our clonal selections were made many years before I decided to pursue a career in wine. Why focus on this aspect when there are so many variables at play—soil type, elevation, vine density, vine age, slope, trellis system, own rooted or grafted? Aside from the differences in ripening time, are the clones of Pinot Noir really all that distinguishable, or is it mere trivia?
There are more known clones of Pinot Noir than any other grape variety. When we established our vineyard in 1984, there were three clones available: Pommard, Wädenswil and Gamay Beaujolais. The Dijon clones, such as 114, 115, 667, etc., began to come into Oregon in the late 80s and early 90s. These clones may differ in any number of ways—cluster size and shape, berry size, color, early or late ripening, etc. Now there are over 50 clones of Pinot Noir available in the United States, and we're up to 9 at our estate.

As interest in these new clones has increased, we began to study them more closely in our vineyard. The higher crop levels in 2014 led us to introduce a series of single clone wines of Pinot Noir: Dijon 115, Dijon 777, and Pommard. For these, we followed similar winemaking protocols to allow for the clearest clonal expression possible. The fruit was harvested by hand and 25% whole clusters were layered on the bottom of 1-ton vats, and topped with destemmed fruit. After a 5-day cold soak, fermentation began. The must was pumped over and punched down twice daily and pressed at dryness. The wine was aged in neutral French oak barrels for 14 months and bottled.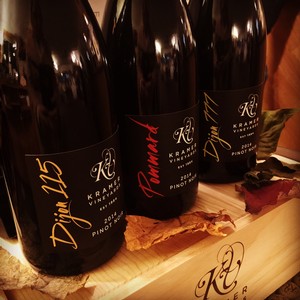 It is too early to ascribe personalities to each of these clones based on one vintage. However, these three wines are quite different from one another, leading me to rethink perspective on clonal significance. The Dijon 777 clone is remarkably spicy, with dark berry fruit and black tea. Whereas the Dijon 115 is far subtler, with a delicate earthiness and minerality. The Pommard is the closest to what I would describe as a classic Oregon Pinot Noir, but perhaps that's due to my familiarity with our Pommard-dominant vineyard? With this series and those to come in future vintages, we hope to further our understanding of each clone in the vineyard and in the cellar.
This limited collection is available in our online store.