December 27, 2017 |
Kimberley Kramer
Bud Break Through Veraison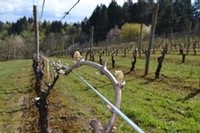 Vintage 2017 opened with a severe winter followed by a long, rainy spring. With five months of overcast skies and very few sunbreaks, the vines were slow to start. We observed over 50% budbreak by April 28, a bit late for our vineyard. The canopy started filling in when the sun finally came out in late May. Summer weather fully arrived the third week of June, and with temperatures in the high 80s, bloom rapidly occurred during the fourth week. Conditions were ideal for this growth milestone, contributing to excellent fruit set—the best we have seen since the 2009 and 2014 vintages. Veraison started on August 7, hitting the 50% mark two weeks later.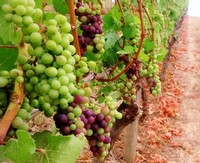 With our fullest crop in years, and a warm and dry forecast, we were on track for a big harvest. 2017 had some catching up to do for heat units, and by early September our GDDs were even with 2016. This, combined with low disease pressure, and an anticipated late September/early October harvest contributed to our decision to do minimal cluster thinning. In these conditions, carrying a heavier crop load forces the vine to work harder, slowing down ripeness, resulting in more balance.
Six Weeks of Harvesting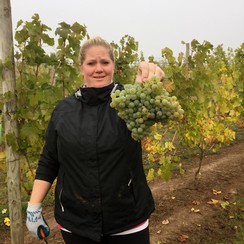 We started to notice a shift in flavor development after Labor Day Weekend, and began sampling the Pinot Noir, Pinot Meunier, and Chardonnay blocks for the sparkling harvest soon after. The sparkling harvest began on September 15, with the Pinot Meunier. The Pinot Noir and Chardonnay came in over the next several days. This was by far our largest sparkling yield, bringing in 10.3 tons from the estate, with an additional 9 tons from other sites. The increased crop load was due a combination of excellent conditions during bloom and fruit set, to our decision to thin minimally, and also due to heavier cluster weights. In a typical harvest, clusters from mature Pinot varieties will weigh `150 to 200 grams. In 2017, average cluster weights were closer to 300 grams, and some, as in the case of the Grüner Veltiner, tipped the scales at nearly two pounds! This trend would continue throughout much of the harvest.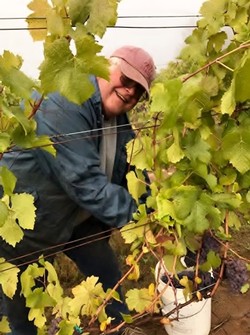 Much of the rest of late September and early October was dedicated to harvesting and pressing grapes for white wine production—Pinot Gris, Chardonnay, Gruner Veltliner, and Muller-Thurgau. Pinot Noir from warmer sites started coming in on October 9, with our estate fruit being harvested in mid-October. Before long, every fermentation vessel in the winery was full, and we had to purchase a few more tanks and vats to accommodate the extra fruit. Harvest concluded October 28, with the Carmine pick. By then, we were at full capacity—every tank, vat, barrel, and carboy was full. Overall, we brought in nearly 94 tons of grapes—20 more tons than our biggest year to date in 2014.
On the Crush Pad and in the Cellar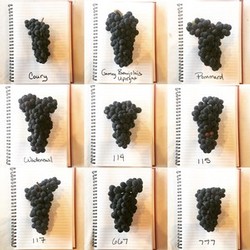 Once the fruit is picked, it is delivered to the crush pad for processing. For white and sparkling base wines, the grapes are sorted then pressed; for red and roses, the fruit is sorted and destemmed. This year, the fruit was in excellent condition, so most of the sorting required was to remove leaves and other non-grape material. The sound quality and overall ripeness of the Pinots led us to continue with whole cluster experimentation in higher percentages than ever before. We also expanded the number of clones of Pinot Noir we are working with to nine total.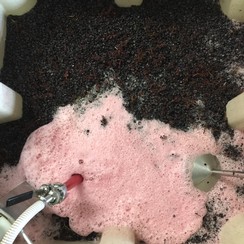 A combination of cool October nights and whole cluster fermentation extended maceration in the red ferments to an average of 30 days. We typically press at dryness, and that usually happens on a 10-14-day schedule when the fruit is all destemmed. With whole cluster ferments, sugars are trapped in the berries, limiting the sugars available to the yeast, prolonging fermentation. This meant that our fermentation management routine was extended by several weeks, and pushed our pressing dates further into November. Our last press was on the day before Thanksgiving, November 22. This is extraordinarily late compared to the last few years, when we were picked, pressed, and barreled down by mid-October.
For the white wines, fermentations were steady and healthy. Tank space is always a concern in years where yields are high, and in some cases, we elected to ferment in stainless or neutral barrels. In addition to barrel fermented Chardonnay, we also have Pinot Blanc, Pinot Gris, and Pinot Noir Blanc wintering over in barrels. These vessels will be stirred bimonthly through the spring, and either blended in with their tank counterpart to enhance mouthfeel and complexity, or be bottled on their own in the fall of 2018.
As we put another harvest behind us, the 2017s are wintering over in tanks and barrels. After the New Year, we'll begin to taste the wines individually, and start to make blending decisions and form bottling plans. The first wines of the vintage will be available in a few months, some won't be bottled until the spring of 2019. We are looking forward to what this record-setting harvest has in store.